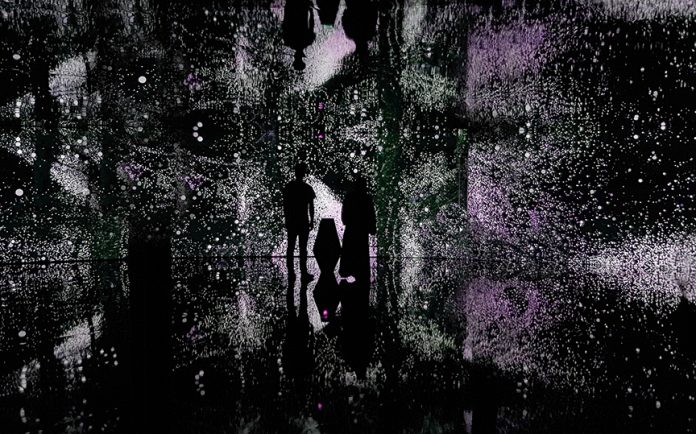 Experience what it's like to step inside a black hole with a brand-new immersive artwork from audiovisual pioneers Marshmallow Laser Feast.
The new work Distortions in Spacetime, the first chapter in a new body of work titled The Scale of Things, will turn participants into particle clouds on a giant screen and give them the sense of being squashed, stretched and spaghettified as they are affected by gravitational waves.
As audience members explore and interact with the environment they will be rewarded with opportunities to see particle jets whipped up, view gravitational lensing, pass through the photon sphere and as they move towards the singularity, things start to get weird…
The artwork is commissioned in partnership by Manchester Science Festival, the British Science Festival, and the University of Hull's Hull Science Festival.
Barney Steel, Creative Director of Marshmallow Laser Feast said: "Our work appeals to the emotion and beauty in science. This piece is part of an ongoing exploration into general relativity, which describes space time as fluid, deformed by the mass within it, a phenomenon beyond the limits of our perception. This experience brings unimaginable cosmic forces into our field of view so we can explore the phenomenon predicted by Einstein over 100 years ago."
Manchester Science Festival director Antonio Benitez said: "We are delighted to be partnering with the British Science Festival to present this brand-new work from one of the most innovative design studios working today. The detection of gravitational waves is one of the most exciting scientific advances of the last few years, and I can't wait to be able to experience Marshmallow Laser Feast's unique take on this phenomenon."
Ivvet Modinou, Director of the British Science Festival, said: "We're hugely excited to be working with the Manchester Science Festival and University of Hull on this stand-out, creative installation from Marshmallow Laser Feast. It will provide people with a unique opportunity to engage with a truly out-of-this-world natural wonder, which will be unlike anything they have experienced before. We hope that visitors will go away with a new appreciation for the beauty of space and the different ways you can engage with science".
Distortions in Spacetime will premiere at the British Science Festival at the University of Hull from Tuesday 11 September before going on to be part of the headline programme at the Manchester Science Festival from October 18.
Marshmallow Laser Feast's previous work includes In The Eyes of the Animal, a virtual reality experience which placed visitors in an animal's paws as they explored a forest, and Colossal Wave, which explored how humans are polluting the oceans beyond repair.
The partnership and commission was announced at the British Science Festival programme launch in London today, alongside other announcements such as this year's Award Lecturers and more Festival highlights.
Distortions in Spacetime is the second Manchester Science Festival headline event to be announced this year, following the news that the headline exhibition would be Electricity: The spark of life, developed in partnership with Wellcome and Teylers Museum.