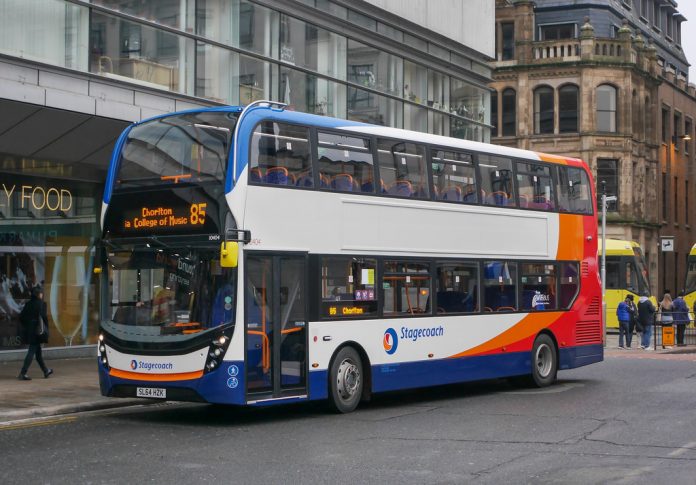 Stagecoach Manchester is inviting budding engineers to apply for a place on this year's apprenticeship scheme.
The company is offering places on its Bus Engineers' programme at each of its 6 Manchester depots in Middleton, Ashton, Hyde Road, Stockport, Sharston and Wigan.
The course begins in September/ October each year and applications are now being accepted.
The company's Bus Engineers' Apprenticeship Programme will help to recruit and train the people who are responsible for maintaining Manchester's fleet of (over 750) buses. The posts are critical to the reliable and safe operation of passenger services across Greater Manchester.
Stagecoach Manchester offers two different apprenticeships:
• 'Mechelec' – a combined mechanical and electrical qualification
• Body / Coachbuilder
Each programme is four years long with the first three years spent on the job learning in the depot with an allocated mentor to offer help and guidance.
It includes attending a specialist training facility in Glasgow on a block release basis. The fourth year of the programme has been specially designed by Stagecoach UK Bus to consolidate technical skills already obtained and is certificated by the Institute of the Motor Industry.
Upon completion of training, successful applicants will be awarded an Advanced Apprenticeship in Bus and Coach Engineering Maintenance and will have the opportunity to become a member of the Society of Operations Engineers.
Stagecoach Manchester has run the apprenticeship programme for 10 years and as a result has trained approximately 5 a year over the 10 years the programme has been running. Adam Ebdom- Parry one successful graduate of the scheme, was invited to join the team on completion of the course.
Speaking about the apprenticeship process Adam said; "My dad was an apprentice with Stagecoach in 1979, and he suggested that I have a look at public transport. We talked about his experience studying for his mechanics apprenticeship and before I knew it, I was researching the current opportunities with the major operators.
The application forms for the apprenticeship convinced me to apply even more. They were asking about me as a person, not just about my achievements or my qualifications. They really wanted to get a grasp on what I was like and my willingness to learn.
I have aspirations to develop with Stagecoach in the U.S and Canada, it would be interesting to see how the industry runs overseas. I think learning about the maintenance of vehicles and how they're regulated. It would be invaluable and incredibly interesting. They have different types of vehicles in other parts of the world. Expanding my current knowledge on how they work would be an amazing opportunity."
Peter Sumner, Engineering Director at Stagecoach Manchester said: "Adam is a fantastic success story and a great advocate for our apprenticeship programme. He has worked hard and taken every opportunity offered to him. Adam has a great career ahead of him and we're proud that he's part of the Stagecoach family."
Peter Sumner said: "We offer one of the best apprenticeship schemes in the bus industry and it is critical to the future success of our company. It's comprehensive content means at the end of four years we have a highly skilled – and qualified – next generation of engineering talent.
Stagecoach UK Bus considers all applications regardless of age. The only requirement is that applicants have GCSE grade A – C or 4 and above or standard Grade 1 – 3 / National 4 or 5 or equivalent in English Language, Maths and a Science.
Anyone wanting to apply for an apprenticeship at Stagecoach Manchester should visit the Stagecoach UK Bus dedicated recruitment site (www.stagecoachbus.com/careers) The closing date is 30 June 2017.