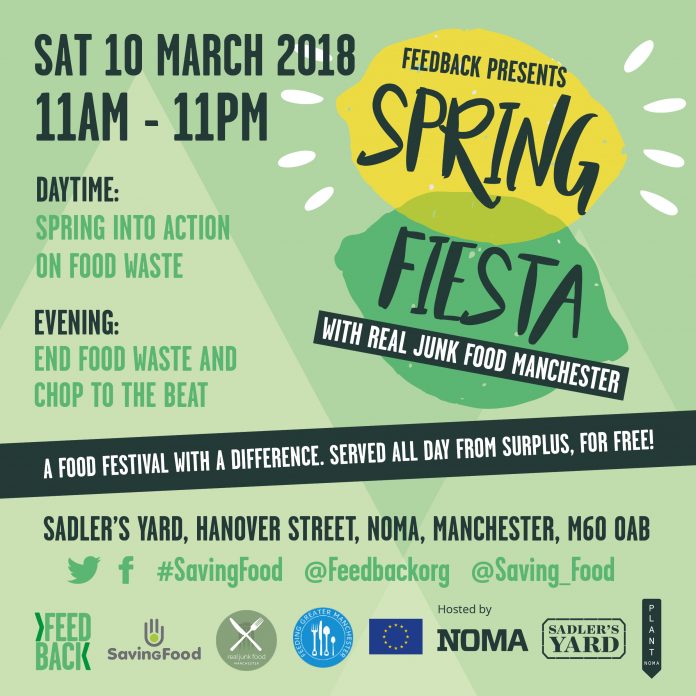 Re imagining and reusing food 'waste' is an effective and delicious way to value the food we eat, while highlighting the urgent need to build a food system that nourishes the planet instead of depleting it.
Globally, around one-third of all food produced is never eaten, a colossal waste of the precious environmental resources that went into producing it. Meanwhile one third of the UK's poorest families are skipping meals because they cannot afford to put food on the table.
Environmental charity Feedback, pay as you feel café and local heroes Real Junk Food Manchester and a host of other local organisations have joined together to help Manchester Spring into action against food waste. This spring, let's celebrate the many delicious solutions to waste.
The Spring Fiesta will take place on 10th March at Sadler's Yard and PLANT NOMA, Hanover Street,NOMA, Manchester M60 0AB.
DAYTIME: From 11am to 4pm Mancunians are invited to nourish themselves and the planet by joining our celebration of diverse local food and community organisations, with a free lunch made from surplus fresh ingredients, a family friendly "alternative market" in Sadler's Yard, kids activities such as "make a Mother's Day gift", a host of workshops for all ages and film screenings.
EVENING: From 6pm the party with a purpose heats up at Spring Fiesta's 'disco chop' at PLANT NOMA. Help us save 100's of kilos of food by co-creating a free feast from fresh, top quality produce that would have otherwise been wasted. Bop while you chop to classic disco, funk and soul tunes from local DJ's and enjoy a bar stocked with waste-busting craft beers from Runaway Brewery and Toast Ale, and local ciders made for surplus produce.
The event is FREE.
Register online HERE