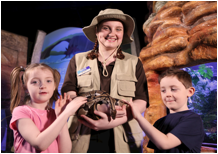 Sea Life Manchester has announced the latest additions to its ever-growing creature family – a nest of snakes, recently rescued by the Brighton RSPCA Reptile Rescue after being abandoned by their owners.
In keeping with the centre's mantra of Breed, Rescue and Protect, the den of snakes, which includes Royal Pythons and Corn Snakes have been rehoused in the aquarium's Jurassic Ranger exhibit, where they will be cared for by a team of expertly trained professionals.
Sea Life Manchester has a history of rescuing different creatures and is a huge supporter of the Big Fish Campaign, an initiative where staff at Manchester educate visitors on the issues surrounding the purchase of certain species of fish for a home aquarium.
Now, working in partnership with the Brighton RSPCA Reptile Rescue, Sea Life Manchester will draw upon its system of care and best-practice animal husbandry to rehabilitate the abandoned snakes, and provide them with the necessary environment that they need to survive.
The RSPCA recently revealed that 823 snakes alone were rescued by the charity last year. The Brighton RSPCA Reptile Rescue evolved after it became apparent for the need for a safe haven for neglected, unwanted and stray reptiles in the UK – the team in Brighton alone can receive up-to 100 calls a week.
Tom Bunsell, Reptile Rescue Coordinator for the Brighton division cites unwanted pets as the main reason for the majority of their call outs. The most common species that the team rescue on a weekly basis are Boa Constrictors, Corn Snakes, King Snakes and Royal Pythons.
Nicola White, Senior Scientific Officer for exotics at the RSPCA said:
"Snakes are amazing animals, but sadly we are still finding that hundreds are coming in to our care every year after being abandoned, neglected or cruelly treated.
"The main thing we want to stress to people who are thinking about bringing a snake in to their family is to research the needs of the snake thoroughly and make sure that you can provide everything that animal needs for its entire life."
Jenn McDonough, General Manager said:
"We are thrilled to be able to aid the RSPCC in rescuing these snakes and provide them with a safe environment to ensure their health and survival.
"The snakes will feel right at home in our Jurassic Ranger exhibit, with a selection of reptile friends to keep them company, including our resident lizards!
"Jurassic Ranger is a completely interactive experience, that allows visitors to and get hands-on with some of the centre's most fascinating beasts. We're really hoping these new additions will enhance our customers' experience and help educate them on the beauty of these slippery creatures."
Jurassic Ranger also includes Nautilus, Axolotl, Lungfish and Mountain Horned Dragon Lizards. Visitors will be able to handle snakes and Giant African Snails too, during ranger experience sessions! Walk through the skeletal remains of this underwater dinosaur world and uncover how these Jurassic ancestors have adapted over the years, and find out how you can help them to survive in the future too!
Now open, families planning to visit should book online, for the best price around, with prices starting from just £10.95 when purchased in advance online. For more information and to buy tickets, please visit www.visitsealife.com/manchester and for regular news and fantastic competitions join us on Facebook/SEALIFEManchester and Twitter @sealifemanc