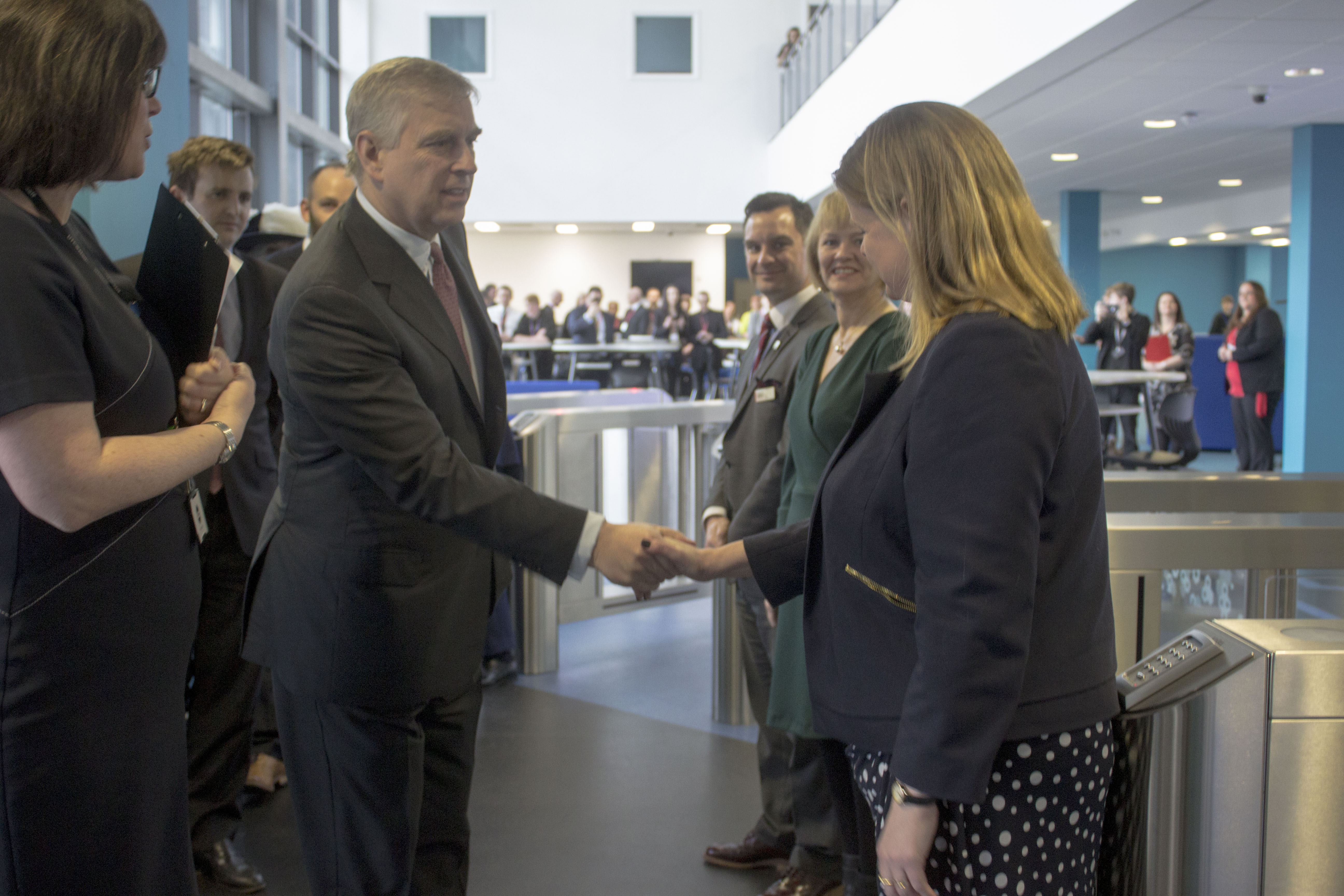 HRH the Duke of York visited Salford today to meet talented students from MediaCityUK's University Technical College.
Prince Andrew was the guest of honour at UTC@MediaCityUK's Talent and Skills Day, which gave its students from across Manchester the opportunity to show the digital community of the North West that there is no shortage of talent to feed in to the technology sector.
The UTC@MediaCityUK, which opened in September 2015, is a college for 14-18 year olds who have a passion for shaping digital and creative content.
Students study a mixture of academic GCSEs, A-levels and technical qualifications as well as getting hands-on, practical experience in specialist pathways such as TV & Film, Graphics & Design, Radio & Audio, and Interactive Media & Gaming.
Prince Andrew met students studying in each of the UTC's pathways during his tour of the state of the art facilities at the college. He was joined by local dignitaries including the High Sheriff, Lady Joy Smith, The Worshipful Mayor of Salford, Councillor Karen Garrido, and The City Mayor of Salford.
The guests also had a chance to meet employer partners from the creative and digital communities who closely support the teaching of each of the pathways at the UTC, including small tech start-up RooCru , the BBC and ITV.
The Duke met the UTC's sponsors the University of Salford, the Lowry and Aldridge Education, and Charles Parker from the Baker Dearing Trust, founders of the UTC movement nationally. He saw UTC students showcasing their live briefs and show reels as he toured the campus. Matt Tiplady, a year 13 student said:
"It was great opportunity for us to showcase our work to our partners and also employers in the Manchester digital community through the attention HRH the Duke of York's visit has received."
His Royal Highness concluded the tour by giving a talk as part of #ThinkUTC day, which was filmed by the students to share with other UTCs nationally.
HRH Prince Andrew said:
"This UTC is like no other I have visited. The skills you are delivering to students are preparing them to such an advanced level that they may not go to university, but straight into employment."
adding that
"The success of this UTC is due to you having chosen this college where you feel you can make decisions about your learning. Here you do not feel like your ideas are met with a no."