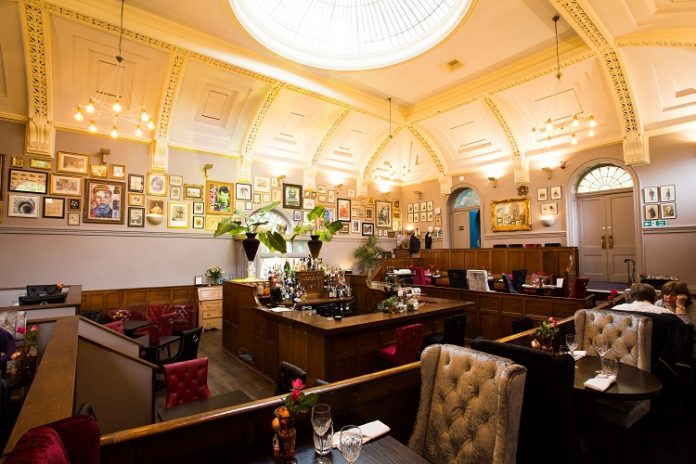 There is something quite surreal about sitting in a restaurant once occupied as a Sessions court.
But it was probably stranger to be surrounded by walls covered in a cornucopia of photographs and paintings, David Bowie circa his Berlin period staring down and vying for my attention along watercolours of fruit and flowers and birds of prey.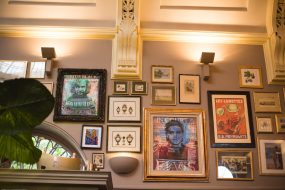 This was the Courthouse in Knutsford situated on Toft Road,the building re-opened to the public last summer after seven years behind closed doors after the former courtroom closed in 2010 when judicial proceedings were moved to Crewe.
One of the more famous cases that the Grade II listed building, originally designed by renowned architect George Moneypenny and built in 1818,was that of Alan Turing World War Two code-breaker Alan Turing  on March 31st 1952 for homosexuality.
It was renovated by a team from Flat Cap Hotels, who opened the Vicarage Hotel in Holmes Chapel back in 2015. Within is the Barristers Restaurant and Bar  open to serve lunch, afternoon tea and an evening menu.
Artist James Blankhorn has created portraits of famous past convicts, and diners will be watched by such faces as Marilyn Monroe, Steve McQueen, Sirius Black, David Bowie and Elvis Presley .
It was lunch that we sampled,one day back in December within the three-storey Georgian property constructed from sandstone block and imposing columns.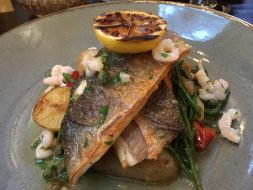 Just two courses from the finely put together menu, a starter of creamed chestnut mushrooms, roasted garlic and chives on a toasted bloomer followed by a splendid main of sea-bass with sauted potatoes, samphire, onions and brown shrimp butter.
Neither could be faulted but I couldn't take my eyes off the room and thinking of the stories that it could tell.
It is still laid out in the style of the courtroom, the judges bench at the far end, the jury apparently sat somewhere near to the entrance while the Centre where the barristers sat is now occupied by the cocktail bar lit from above by the domed window, the centrepiece of the restaurant, the cellar underneath once the cells that contained those about to be bought to justice whilst I find out later that the area I am seated in, was the press gallery
It certainly quirky and the decor can be a little off putting with all those eyes looking at you and seeing the reflections in the many mirrors that line the walls but we couldn't fault the food
Try it out, you will be pleasantly surprised