Cameron Mackintosh's revival of the 1989 Miss Saigon landed in Manchester, quite literally over the weekend.
The story set at the fall of Saigon at the end of the Vietnam war in the spring of 1975 through to the characters reunited three years later in Bangkok in entirely different circumstances, is a heart rending one of tragedy.
Taking its inspiration from Puccini's Butterfly, a virginal Vietnamese woman falls for an American G.I in a brothel run by a sadistic exploitative pimp whose one aim in life as the story develops, is to live the American dream.
While the production, the musical sets, the dramatic visuals, topped off here by the incredible sight of dancing Vietcong warriors under the illuminated statue of Ho Chi Minh, the story itself feels uncomfortable in this modern 2018 setting.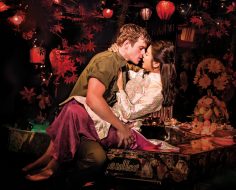 Many in the audience clapped wildly at the performance of Red Concepcion as the Engineer, and theatrically he was brilliant, but it was hard to place his story, selling women for sex in a seedy bar, forced to plant rice in a fields for three years as the Vietcong attempted to re-educate him, and then starting all over again in Bangkok.
The American Dream sequence in Act 2 in particular just didn't feel right any more in the Donald Trump World, as he imagines his life in America to be all huge cars and showgirls and flash suits and shiny riches.
Indeed the economics of the planet have changed so much in the thirty years since the musical was written that you would send your children to the Far East's expanding economies to fulfill their dreams.
When the story first came out the Americans were trying to make sense of Vietnam and it was meant to highlight the fate of the estimated twenty three thousand "orphans of the war" and the responsibility of America, which is perfectly portrayed at the beginning of Act 2, as one critic wrote "Just how can you make the sexual, romantic, emotional and financial exploitation and abuse of a vulnerable Vietnamese woman into a barnstorming theatrical night out."
So if you want to go and see it and it runs at the Palace Theatre until May 12, immerse yourself in the superb theatrics and music, take in some of the incredibly coordinated dance moves and watch the chemistry play out between Chris and Kim.
Then make your mind up about the story.