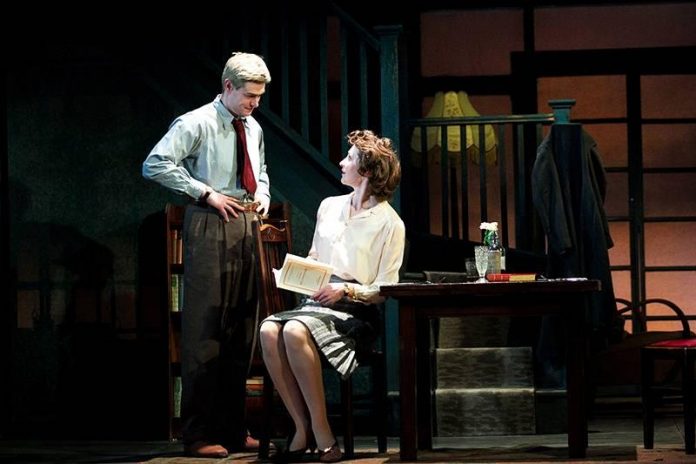 This less well known of Agatha Christie's works started out in 1924 as short story 'Philomel Cottage', it was then adapted by her for the stage in 1932 under the title 'The Stranger', following which the actor and playwright Frank Vosper adapted it as the full length play 'Love from a Stranger', providing himself with a starring role as Bruce Lovell in the process.

Since it's initial opening in London on 31 March 1936 at the New (now Noel Coward) Theatre the play has been made into two films one in 1937 and another made for tv in 1947.  
Getting to the theatre early will give you a sense of anticipation for the darkness to come with what sounded like a drone noise in the background somewhat like a low air raid warning hum as the stage is slowly lit before the performance begins.
During the first half we hear the ticking clock in the background which allows us to share in the feeling of the female lead that life is passing her by, but having won some money in a sweepstake may be the start of her being able to spread her wings and live a little.
Enter stage left plausible 'Stranger' Bruce Lovell (convincingly played by Sam Frenchum) an affable John Barrowman meets Columbo character using his Boris Johnson hairdo as somewhat of a prop to prove to us how innocuous he is.  As time goes by however we see his true callous, manipulative self come to the fore.
The set was 'simply' brilliant and sitting in the audience gave us a Rear Windowesque feeling of voyeurism whilst its conveyor belt like movement kept the action flowing, the subtleties of the lighting adding to the trepidation as the plot unfolded.
Lashings of humour Mrs Bucket style were added by Nicola Sanderson, as Aunt Lulu gave us the permission we needed to laugh at some of our own ludicrous human behaviours and lovely cameos were provided by Molly Logan and Gareth Williams as Maid and Gardener to provide the contrast between the horror of the situation Cecily Harrington finds herself in.  
I shan't say any more about the plot but it is nail biting stuff as the clock ticks on and we find out more about what the central characters are actually capable of.
Priorities first though  ..… Tea at Fortnums anyone ?
Words Debbie Barlow