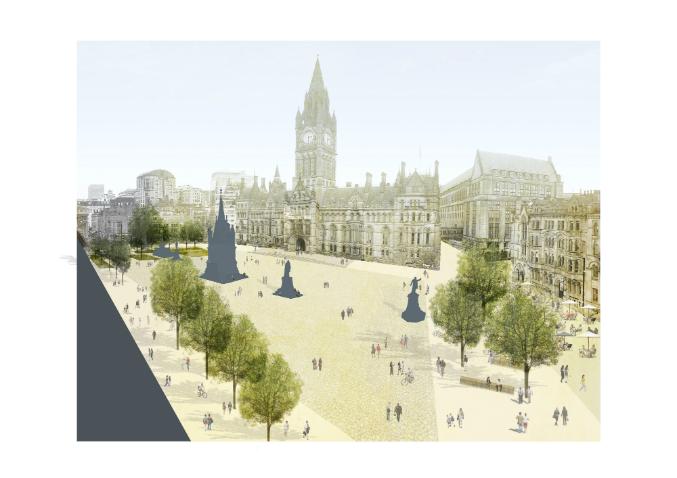 Proposals which would make Manchester's Albert Square one of the finest civic spaces in Europe, as well as further details of plans to refurbish the Town Hall, have been unveiled.
The outline plans, which would see the square enlarged by around 20 per cent to significantly enhance its role as a major events and Manchester's most important public square, are part of the Our Town Hall project to protect and enhance the Grade I-listed building and its setting.
The ideas for Albert Square were set out as part of a presentation given to July's full Council meeting detailing progress on the project yesterday.
The proposals for the square, which will be subject to full consultation at the design stage, would involve limiting traffic access to only the Princess Street side of the square and extending the square's pedestrianised areas.
Traffic surveys have shown that fewer than 3,000 vehicles a day use this route and can be readily re-routed. Taxi and bus stops would also be repositioned, subject to consultation.
The design of the reconfigured square will also enhance its safety, security and accessibility removing the need for the current concrete barrier around it and offering better infrastructure for major events.
The square, with its Grade I-listed memorial to Prince Albert, actually predates the Town Hall and work on its construction started in 1863 – five years before work began on the iconic building.
Councillor Bernard Priest, lead member for the Our Town Hall project, said: "We are making significant progress on this ambitious project to safeguard, refurbish and partially restore the iconic Town Hall building while enhancing its surroundings.
"Albert Square is a much-loved public space where Mancunians and visitors come together for a huge range of cultural and civic events. It is, in many ways, the heart of Manchester. These proposals will see it take its place among the very finest international public squares."