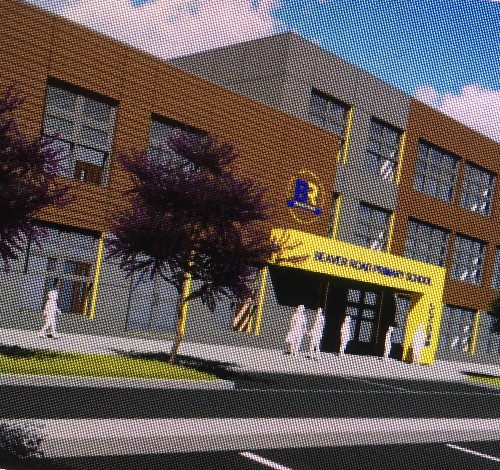 Manchester's Planning Committee are set to approve plans for a new school to be sited on the former MMU  Broomhurst Halls of Residence on Wilmslow Road in a meeting tomorrow.
The proposals for the current Beaver Road Primary School would see it expand to a five form entry school of 1050 pupils and increase from its current pupil population of 716 pupils.
School years 1, 2 and 3 will remain on the existing site and the older pupils in years 4, 5, 6 occupying the proposed school building, providing accommodation for 450 pupils.
The proposals for the school had been designed to allow space for up-to a 3 storey building which could accommodate nursery and reception classes says the report which will be debated.
The plans for the school are in response to overwhelming demand for school places in Didsbury and across south Manchester as a whole, with many parents already being forced to send their children miles every day.
"Parents want their first choice of primary school and Beaver Road has been
consistently over subscribed for many years," says the application.
For Reception places in September 2017 there were 356 applications for 90 places. For new families wanting a place at Beaver Road the distance criteria was 0.39 miles."
The School still has 80 families on its waiting list for Reception places if and when they become available. Didsbury continues to grow as more and more families choose to live in this community."
46 supporting comments and 23 objections have been received by the committee with the main objections concerning the school now being on two sites with inadequate road safety provision for Primary school-aged children walking between the two Beaver Road sites.
Other objections include inadequate consideration of the increased traffic on already congested roads through Didsbury Village and concern about safety aspects of this in terms of groups of children walking along a busy main road and crossing other roads in all weathers and in the dark.
Meanwhile Didsbury Civic Society are concerned that no account has been paid to the conservation area in which the school will be situated.
"It is not mentioned in the application, nor is any report about it made or referenced. The
school's appearance will detract from the conservation area. The application says
that the school will not stand out, but the yellow window frames and entryway are
garish and bright, in contrast with the bleak, utilitarian look of the school. The
rationale for the yellow features is that the school's colours are blue and yellow."
.