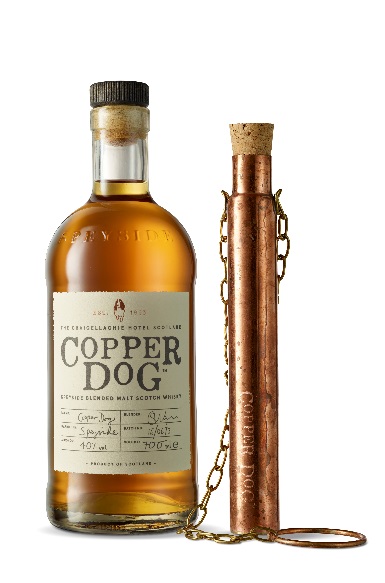 Give an extra special Christmas gift this holiday season with a personalised bottle of Copper Dog whisky, available exclusively from Selfridges Trafford Centre and Exchange.
Available exclusively this weekend (7th – 10th December) in the Whisky Hall, each bottle of Copper Dog Purchased can be hand-customised by in-store Calligraphers.
A Copper Dog is piece of copper tubing with a penny soldered on one end, a cork on the other and attached to the belt with string, the 'Copper Dog' could be hidden down a trouser leg and truly was 'a man's best friend'.
Copper Dog is an original blend of eight single malts inspired by Speyside and the Copper Dog pub at the Craigellachie Hotel, located in Speyside in the Scottish Highlands.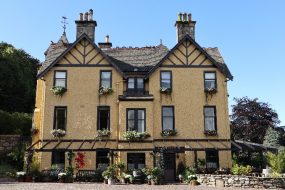 Renowned hospitality entrepreneur Piers Adam first discovered The Craigellachie hotel on the idyllic banks of the river Spey during a visit to the village his Father had been evacuated to. After falling in love with the property and surrounding area, Piers decided to purchase it in 2013 and set about restoring it to its former glory. One thing he was certain of was that the 'Spirit of Scotland' must be at the heart of the Craigellachie experience – both figuratively and literally – and so he sought the help of whisky industry veteran Andrew Torrance, the youngest ever member of the Keepers of the Quaich, to create a dram that could be offered to each guest at the hotel. And so Copper Dog was born.
The whisky itself has been meticulously crafted by Copper Dog Master Blender Stuart Morrison to represent the diversity of Scotch production in Speyside, the home of over half of Scotland's distilleries.
Leading with fruity flavours that move through fresh, orchard, dried and citrus, and with hints of vanilla and aromatic spices, Copper Dog is the democratic face of whisky, as drinkable neat or with water as it is with cola or in a cocktail. The simple, bold honesty of the Copper Dog brand is mirrored in the unique whisky dipper and dog emblems, designed by famed British illustrator Hugo Guinness to grace every bottle.
Copper Dog believes that what makes Scotch whisky the greatest of all spirits is its approachable simplicity, coupled with a resilient versatility that allows its many complex flavours to shine through. Above all, Copper Dog aims to give consumers a glass that they are in control of, however they choose to enjoy it.
To this day, The Copper Dog Pub remains the watering hole of choice for distillery workers and travellers, and its eponymous export continues on its mission to de-mystify the Scotch whisky market and bring the 'Spirit of Scotland' to consumers in over 64 countries. Copper Dog is the only whisky brand to have originated from a pub environment into a bottled product.
At just under a year old, Copper Dog has already seen huge success, being listed in over 2,500 bars and restaurants and 800 stores across the UK, including Waitrose and Tesco. The premium drinks brand is also expanding internationally at a rapid rate, with listings in over 3,000 outlets across six US states, including global travel retailers Heinemann and Dufry.