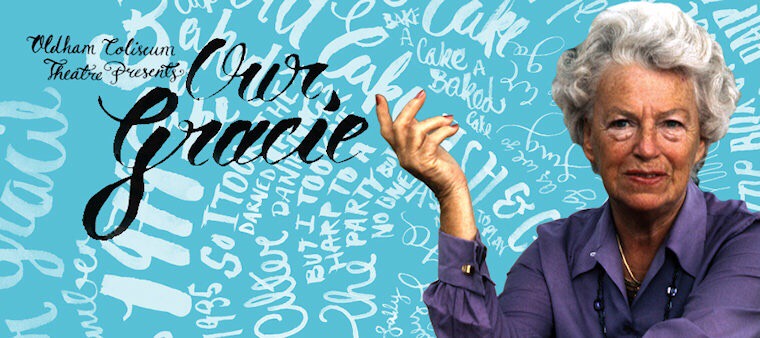 In March Oldham Coliseum Theatre will present the world premiere of a brand new play on Rochdale's finest export, Gracie Fields.
Our Gracie is presented as a music-hall style piece set in the 1960s, as Gracie returns to the UK from semi- retirement on the island of Capri, Italy, to promote her newly-published autobiography, Sing As We Go.
While she is in the country, Gracie comes to Oldham Coliseum Theatre to present a stage version of her life, with songs and laughter, and in the service of truth, some sad bits too.
Gracie Fields' vibrant personality and rich, warm singing style took her from above her grandmother's Rochdale chip shop to international fame.
Her musical recordings have sold in their millions and she became one of the highest paid female movie stars in the world. So great is her appeal that her war-time work boosting morale saw Hitler declare her an Enemy of the Third Reich.
Our Gracie's spontaneous comic talent makes her, whether being funny or sentimental, always unaffectedly good company. Joined once again on stage by some of the finest theatrical talent currently available, this is a once-in-a- lifetime opportunity to hear her tell, in her own words and some very famous songs, the real-life Cinderella story of
how an ordinary working-class lass became Britain's greatest all-round female entertainer.
Gracie Fields will be played by Rochdale actress Sue Devaney, who has recently completed an international tour playing Rosie in Mamma Mia. Sue is a well-known face from television programmes including roles as Jane in Dinnerladies (BBC), Liz Harker in Casualty (BBC) and Debbie Webster in Coronation Street (ITV).
Writer Philip Goulding is a Coliseum favourite, whose previous work includes Wake up Little Suzie!, Feels Like The First Time and Horse or River. His credits also include: A Fine Bright Day Today and The Road to Nab End, both of which received four star reviews from The Guardian.
Our Gracie will be directed by the Coliseum's Artistic Director Kevin Shaw, whose recent directorial credits at the Coliseum include: Hot Stuff, Dreamers, The Mist in the Mirror (nominated for Best Presentation of Touring Theatre at the UK Theatre Awards 2015) and Chicago (winner of two Manchester Theatre Awards in 2014).
Our Gracie runs at the Coliseum Theatre from Friday 4 – Saturday 26 March 2016. Tickets can be booked on 0161 624 2829 or at www.coliseum.org.uk
.