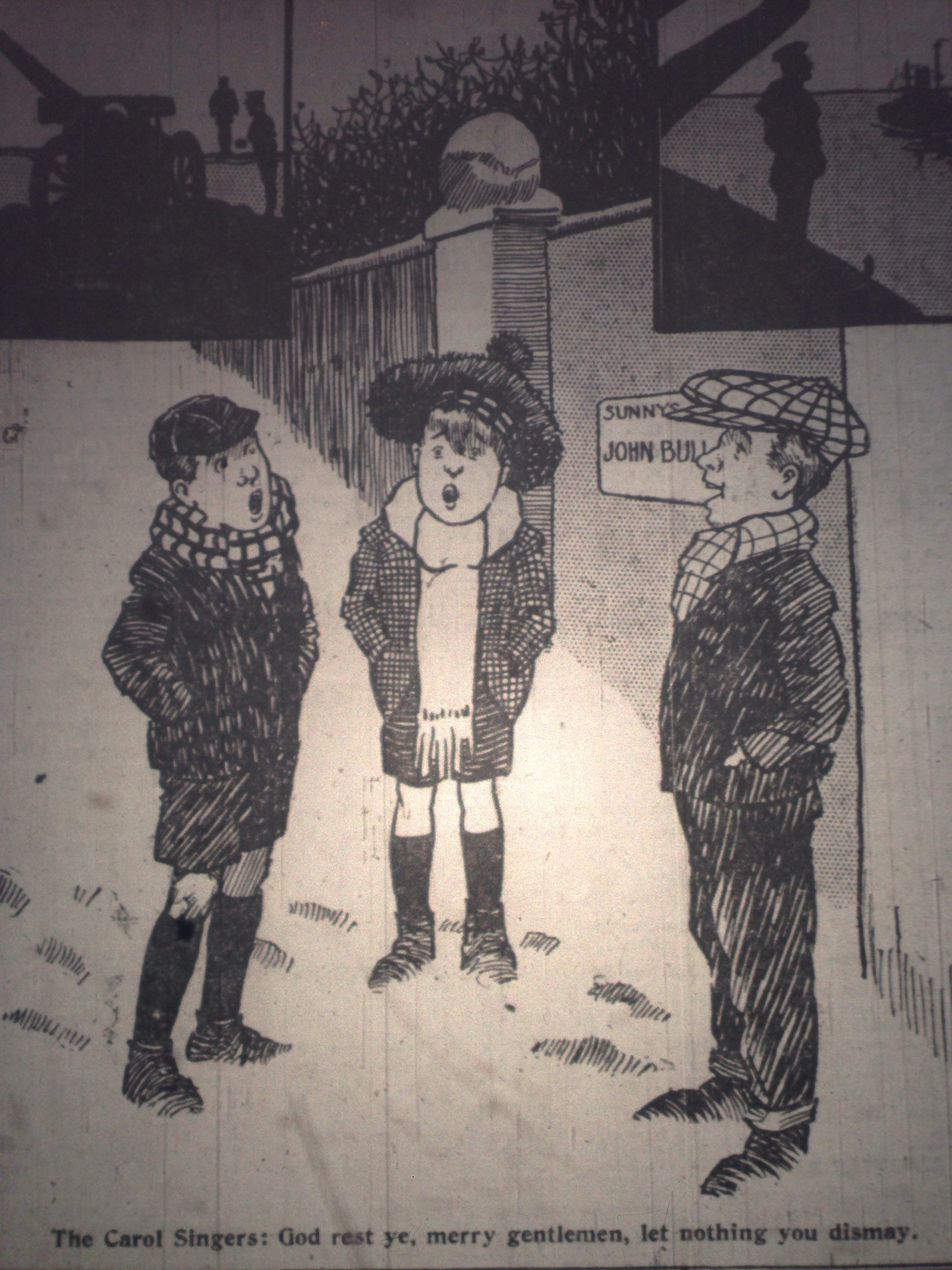 Xmas shopping was in full swing in Manchester.
"Though jewellers and other vendors of expensive luxuries are in mournful mood, the demand for very costly goods which have not the recommendation of utility now being absolutely negligible, their fellow tradesmen in other businesses are doing well"
Wrote the Evening News.
Toys were doing a brisk trade, English ones of course but French playthings were also popular.One shopkeeper described how ladies were spending money freely and in one of the busiest Xmas's so far .
" the most striking feature of our present business is the custom we are getting from the working class people, who with an unusual amount of money in their pockets are showing that they possess a taste for good things which they have never had the opportunity of before."
Manchester was doing its bit for the soldiers abroad, over five thousand bags had been sent out in just five days to the troops in France and Gallipoli, with another forty five thousand due to be sent before the festive season.Grammar school boys were brought in to help with the sorting at Newton Street post office.
Roast beef was still the most popular Xmas day meal in Manchester that Xmas while there was good news on the supplies of holly and mistletoe and a consignment of oranges had arrived at Manchester docks.
The news from the front was the appointment of General Sir Douglas Haig to take charge of the army in France from Marshall Sir John French.
Haig had commanded two army corps back in August 1914 as part of the expeditionary force and had made his name at the battle of Aisne.
The Prime Minister, Asquith speaking in the Commons just four days before Xmas announced that the country needed as many fighting men as it could possibly muster. Already he said there were one and quarter million men fighting in the various theatres of the war. The country should aim to get every man of military age who was physically qualified.
With the Derby scheme coming to an end there was a lull around Manchester's recruiting services that week but the clerks were busy sorting through the many applications.
There was snow in Manchester that week followed by a sharp frost. The public were being warned that in the event of further snow fall there would be a considerable amount of inconvenience as the cleansing department was short of men to drive the horses.
The Lord Mayor of Manchester announced that he was opening a fund for a permanent memorial to Nurse Edith Cavell who had been executed as a spy by the Germans in Brussels the previous month.
Some of the nation's art treasures were to be moved from London to Manchester to protect from further Zeppelin raids.Three pictures from the National gallery were already handing in the Mosley St gallery and arrangements were in place to bring a further twenty five.
One man was killed and another injured in an explosion on London Road at the works of Lindsay and Williams, waterproof manufacturers on the banks of the river Medlock.
Twenty year old William Baker of Cornbrook died of burns while Fred Hartley of Heaton Park was badly burned around his head and arms but was discharged from hospital later in the day.
There was a huge fire at the Quarry Street Mills of Robert Platt Ltd in Stalybridge resulting in thousands of pounds worth of damage.The fire broke out in the No2 spinning room with the roof falling in and top storey floor giving way and machinery plummeting to the ground as onlookers watched on.
The death was announced in New York of Captain O'Meagher Condon who had been condemned to death for his involvement in the murder of Sgt Brett forty eight years previously in the Fenian outrage on Hyde Road.
Condon was reprieved because of his American citizenship and served eleven years in jail before being released on the condition that he did not return to Ireland for twenty years.
He moved to America but would return to Ireland eventually where he received a heroes welcome and would also speak at a large public meeting in Manchester.
The death was also announced of Sir Henry Roscoe at the age of eighty two.Roscoe was one of the pioneers in sending up the university and was professor of chemistry there for thirty years and was known for his work on the rare element Vanadium..He was also the first member of Parliament for South Manchester