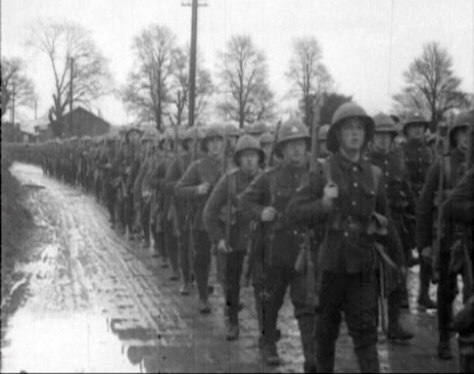 The North West Film Archive have been shortlisted for a FOCAL International award for their latest documentary, The First World War: Life on the Home Front in North West England, which was created in collaboration with Artnoire Creative Services.
Produced by the NWFA's Marion Hewitt and researched, scripted and directed by film-maker and former Granada Television producer Alison Tarpey, the film features footage taken before, during and after the First a World War, commissioned by mill owners, manufacturers, cinema owners and early film makers.
Pre-war footage shows the region's manufacturing and engineering industries and the Royal Visit to Lancashire in 1913 with King George V and Queen Mary's tour of Lancashire's mill towns.
The war itself has footage of the Accrington Pals, the Lancashire Fusiliers and the Cheshire Regiment shows the recruitment process and training as well as the early days of aviation, and German Prisoners of War being marched through the streets of Lancashire.
There are troop inspections in Preston and Blackpool, to the subsequent victory parades in Whalley and Haslingden and the unveiling of war memorials from Egremont to Altrincham.
The documentary has been shortlisted from a record 265 submissions from 24 countries.
The awards honour producers, filmmakers and other creative professionals who have used archive footage in a documentary, feature film or any other form of production as well as those who preserve and restore our cultural heritage.
'Life on the Home Front' been nominated in the category for the Best Use of Footage on non-Television Platforms.
The award ceremony will be hosted by television and radio presenter and former BBC Chief News Reporter, Kate Adie OBE at the Lancaster London Hotel on May 21, 2015.