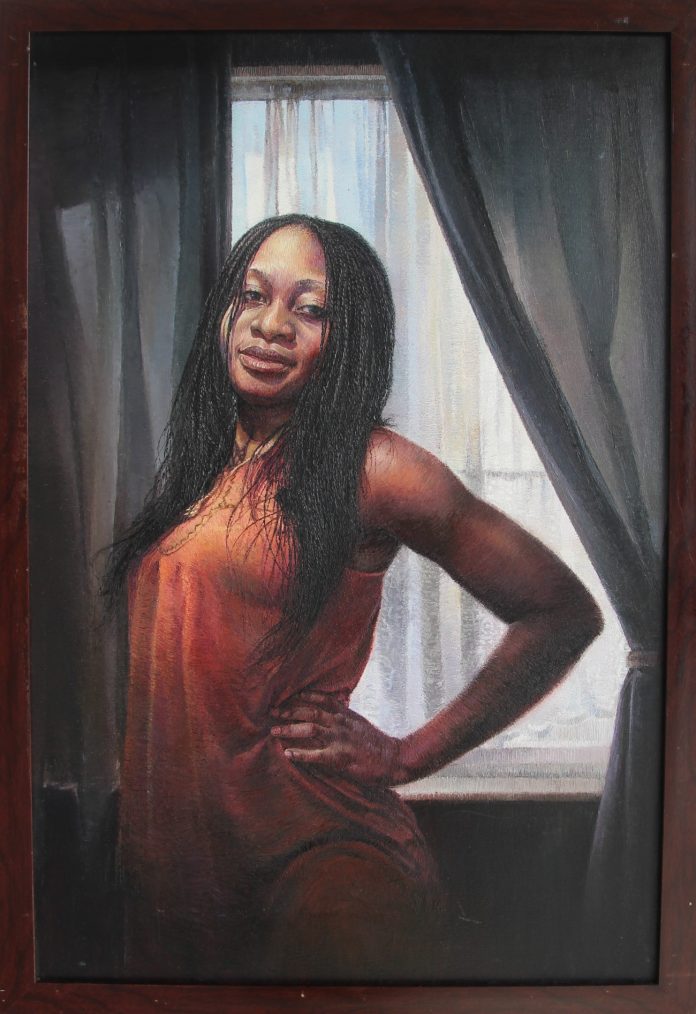 Gallery Oldham has added a new painting 'Damilola' by Oldham-based artist Titus Agbara to its extensive collection with support from Art Fund.
Curators at Gallery Oldham were impressed by the quality of Agbara's work when he submitted two pieces to the Oldham Open in September 2017.
It was the first time Agbara had offered work to the Open Call exhibition, which takes place every two years, as he had moved to the borough the year before.
Titus Agbara was born in 1974 in Lagos and studied art at the School of Art and Design, Federal Polytechnic in Auchi, Nigeria. He worked full-time as an artist before moving to the UK in 2007. He now combines his career as an artist with a role as a care assistant.
Agbara's work is in the National Museum Lagos, Nigeria, but this is the first time a European museum has acquired his work. He has taken part in SkyArt Portrait Artist of the Year 2014 and Sky Art Landscape Artist of the Year 2015 & 2016.
The subject, Damilola, is a friend of the artist, who he met when he first moved to London. Damilola is also from Nigeria but had been in the UK for a while when they met. Agbara was keen to learn about how things worked in the UK, and Damilola was generous with her time and knowledge. She cooked dishes from home for Agbara and he felt she would make a good subject for a painting. Agbara took photos from which he worked at home, building up the layers of paint using his usual technique.
Councillor Barbara Brownridge, Cabinet Member for Neighbourhoods and Co-operatives, said: "It's wonderful that we have managed to secure this stunning painting to display in Gallery Oldham and uncover such a talent here in Oldham, I want to thank Art Fund for their support.
"The Oldham Open is a great opportunity for artists to showcase their work and I would encourage artists to get involved when we announce details next year."
Titus Agbara said: "Either consciously or unconsciously done, we all are in quest for the never-ending truth, which the art has been my inner voice that constantly surprises and inspires me. I am very pleased that Gallery Oldham have added my painting 'Damilola' to their collection."
The painting is now on display in the New Acquisitions section of Oldham Stories at Gallery Oldham.