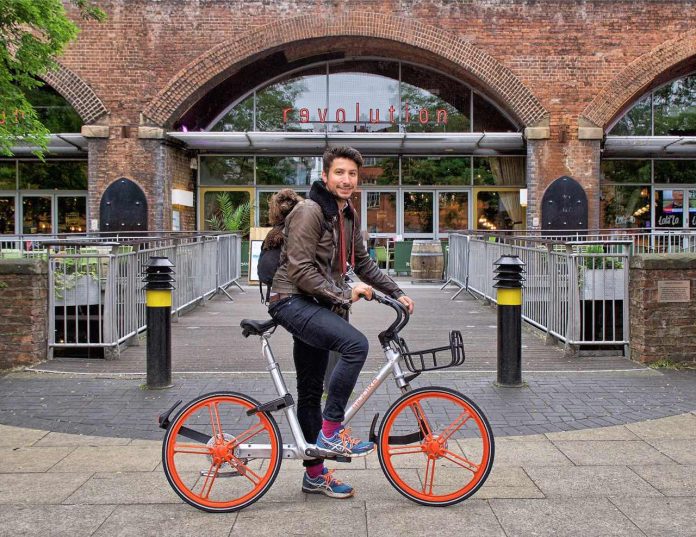 Mobike, the world's first and largest smart bike-share, has launched in Manchester and Salford, with Mancunians and Salfordians now able to download the Mobike app and get cycling.
Manchester's first and only bike sharing scheme is entirely funded by Mobike, which hopes that its bikes' iconic silver and orange look will soon become part of the city's main transport network.
Following conversations conducted in the run up to the launch with some of the most prominent local businesses, Mobike has already established strategic partnerships with a range of organisations in different sectors, gathering support to help develop an attractive, environmentally friendly, affordable option for users around the cities.
From partnerships with real estate developers, (such as MediaCityUK and Exchange Quay), biking groups and think tanks (BikeRight!) Universities (Manchester Metropolitan University and Salford University), entertainment & leisure organisations (Great Northern Warehouse), to the Oxford Road Corridor initiative stakeholders -TfGM, Manchester Science Partnerships – Mobike has taken a truly community-oriented approach for its 100th City launch, and its European arrival.
Mobike is committed to helping local communities develop into smart, car-lite, tech-optimised, cities as collaboratively as possible. The company has indicated that the fruitful local business discussions and local partnerships confirmed in the run up to their launch in Manchester will be the standard for their development elsewhere in the UK and in Europe.
Andrew Taylor, Travel Plan Manager at Manchester Metropolitan University, said: "At Manchester Metropolitan we are very excited about the launch of the Mobike scheme. We are working closely with Mobike to ensure the scheme can be effortlessly accessed by our staff and students. The scheme will potentially mean that cycling becomes a more convenient and affordable way to travel, and we are optimistic that Mobike will support the greater uptake of cycling in the city."
Mark Schofield, Great Northern Warehouse Centre Director, said: "We are delighted to be partnering with Mobike to introduce Manchester's first cycle sharing scheme. We both share the same commitment towards innovation and sustainability, and we're looking forward to working closely with Mobike as they expand their presence in the city."
Jeremy Birkett-Jones, Investment Director at Hunter, said: "We are delighted to be partnering on this fantastic sustainable initiative which will be a superb addition to our existing transport connectivity at Exchange Quay."
The bikes have been unloaded overnight to key locations jointly decided between Mobike, TfGM, and Manchester and Salford City councils. A strong focus has been put on the areas that are most convenient for locals – near major train stations (Piccadilly, Victoria, Salford Central), and major throughways (Oxford Road, Deansgate), as well as vibrant destinations for food, retail, leisure, and entertainment (Northern Quarter, Great Northern Warehouse, Piccadilly Gardens, amongst others).