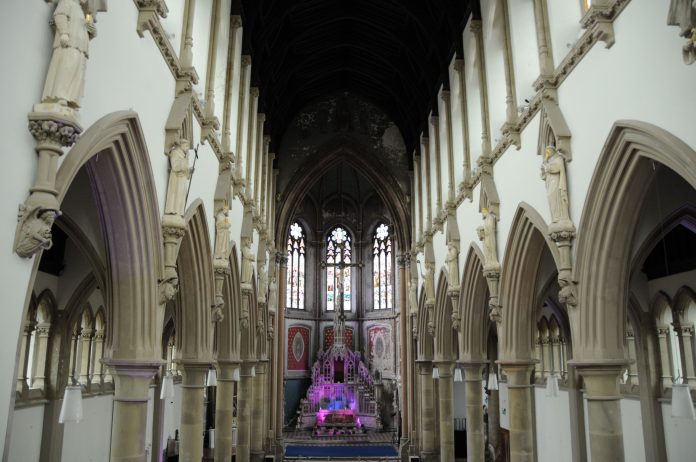 Exactly a decade after The Monastery Manchester opened as a corporate venue for the first time, the doors to the magnificent grade II* listed building will open to visitors every day (except Saturdays when weddings usually take place) from this Wednesday 21 June 2017.
This 10th anniversary marks a major milestone for the building, and realises the Monastery of St Francis & Gorton Trust's long-held ambition, to be open to the public as a visitor attraction and once again be at the heart of the Gorton community, offering a unique visitor experience as well as a comprehensive learning and activities programme alongside the conference and hospitality business.
The building will be open from 11am – 4pm for everyone to enjoy what is widely considered to be one of Manchester's most architecturally significant buildings. Visitors can find out more about the intriguing story of this fascinating heritage site, once nicknamed Manchester's Taj Mahal for being one of the 100 most endangered sites in the world.
A new permanent exhibition features the story of Gorton Monastery from its Franciscan past as well as a special local history section on Belle Vue and Gorton, known as the 'Workshop of the World'. Heritage talks and viewings of rarely seen archive films will take place in the 'Heritage Corner'. The new Monastery shop will sell a wide variety of gifts, cards, souvenirs and books.
The refurbished Victorian Pantry is located in the old friary. Open from 11am for morning coffee, delicious lunches and traditional afternoon teas, all produce is home cooked, freshly made and uses locally sourced produce. Also, additional rooms in the Heritage Corner have been created by converting the friary basements into community arts, health, well-being, family learning, play and creative spaces.
All this has been made possible thanks to the construction of the new £3m Welcome Wing which has created additional flexible space for community, arts, health, well-being and learning activities. The project, which took 12 months to complete, was made possible by a National Lottery grant of almost £2million from the Heritage Lottery Fund (HLF), together with a £1million donation from the Stoller Charitable Trust.
Elaine Griffiths, chief executive of the Monastery of St Francis and Gorton Trust said: "I think today marks the most important day in the project's 21-year history, as we are now able to deliver our long held dream to open 'Every Day for Everyone' and put the Monastery back at the heart of the local community. Thanks to all our new facilities, we can now open to visitors and run community projects, as well as operating as an award-winning conference and events venue.
"It's uncanny that we are opening the doors to the public exactly ten years to the day since we held our first ever corporate event in the Great Nave, A Midsummer's Night Feast. They say there is no such thing as coincidence, and that certainly seems to be the case here at Gorton Monastery.
"We look forward to welcoming everyone through the doors to see this wonderful building, visit the Heritage Corner, The Victorian Pantry and new Monastery shop. Gorton may not be an obvious stop on the tourist trail, but the Monastery has such a fascinating story to tell, and is of such great significant historically and architecturally, that it's well worth a tour and makes a fantastic day out for people of all ages."
A nominal entrance fee will be charged – just £3 for adults, £2 for concessions, £1 for students and £5 for families of up to four people. All proceeds go towards the upkeep of this precious site. The entrance fee includes parking. Local Gorton residents and members of local community groups from the M12 and M18 postcodes will qualify for free entry.
Located in Gorton in east Manchester, the Monastery is only 10 minutes by car from Manchester city centre and Piccadilly train station and a short walk from Ashburys train station. The 53, 205, 206 and 207 bus routes also stop right outside the Monastery gates, on Gorton Lane.
Regular supporters of the Monastery can join the 'Friends for Life' scheme has also been launched which costs £21 per year and allows unlimited visits and advanced notice of ticket sales for popular public events such as the annual carol concerts.
Gorton residents living in postcodes M12 and M18 can register for free entry by bringing along proof of address.