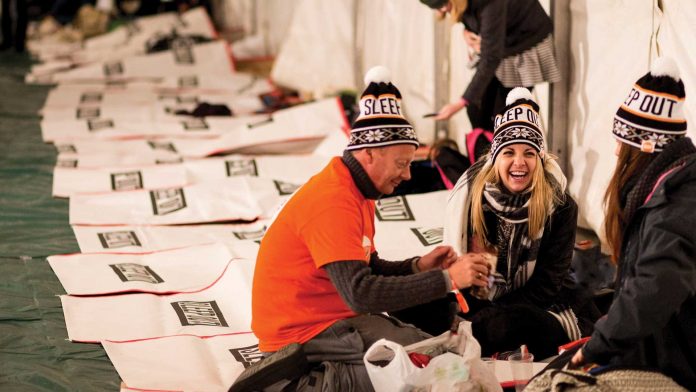 Mancunians are being urged to swap their beds for sleeping bags on Thursday 19 October to raise funds for youth homelessness charity Centrepoint.
Sleep Out in Manchester will take place at the iconic London Road Fire Station site, one of the city's best known historical buildings, which has been generously loaned by Allied London.  Hundreds of participants will spend the night sleeping in the unheated building and courtyard. The event is part of a national fundraising event in 14 cities across the UK throughout October and November.
Funds raised will support Centrepoint's work in Greater Manchester. The charity began working in the region earlier this year, supporting 2,000 young people each year. Centrepoint provides practical support and advice for those at risk of homelessness, and helps young people to turn their lives around by gaining essential life skills, tackling physical and mental health issues and moving into education or employment.
Young people rough sleeping is a significant problem in the UK. In 2016, 55% of homeless young people said they had slept rough at some point.
Centrepoint helped Rebekah, 19, after her family threw her out and she was forced to sleep rough.
Rebekah said: "Me and my mum didn't get on at all. I wanted to go to college, to get a job and do well. She didn't want me to do anything. I got kicked out at 9 o clock at night. They left me with nothing. I didn't have a phone. I had no contact with anybody. I was sleeping at bus stops, jumping on trams to keep myself warm. It was a scary environment to sleep in. I was dehydrated and hungry. I lost quite a lot of weight. People would come up to me and call me a 'tramp.'"
Rebekah was then referred to Centrepoint in Manchester where she began to get the support she needed.
"More than anything I felt happy that I wasn't going to be street homeless anymore. They were really nice – they made sure I got food, and they found me a place in a hostel. It was a big relief. Now I'm doing what I always wanted to do – studying at college."
Centrepoint's Regional Fundraising Manager Ben Bowden said: "Sleep Out is a thought-provoking experience that everyone should try. We aren't trying replicate the terror of spending a night on the streets with nowhere else to go – but you will feel some of the cold and discomfort rough sleepers have to endure every night as winter begins to set in.
"We want you to have some fun at Sleep Out but there's a serious side to it. The money we raise will help support vulnerable and homeless young people here in Manchester to get urgently needed support and gain the skills and confidence they need to live independently."
The event will take place on Thursday 19 October and registration is now open for participants at £25. To sign up, visit: https://centrepoint.org.uk/sleepout.