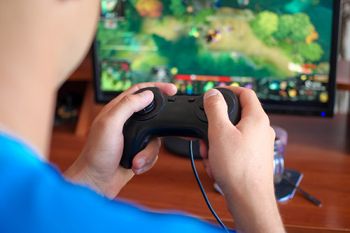 A team at Trafford Hospital is transforming the way shoulder surgery patients receive physiotherapy, by using a series of personalised computer video games to help patients exercise and track their recovery progress at home.
The Virtual Physiotherapy (ViP) project aims to improve patient experience while also making physiotherapy programmes more efficient and so increasing the number of patients who can be treated by physiotherapists.
Trafford Hospital is believed to be the first in the world to adopt this state-of-the-art technology into day-to-day physiotherapy programmes.  The project builds on a successful clinical research study led by Manchester University NHS Foundation Trust (MFT) consultant orthopaedic surgeon Mr Bibhas Roy.
The system, developed by technology firm Mira Rehab, turns physiotherapy exercises into fun-to-play video games.  It uses a sensor to track and assess patient compliance, so their progress can be monitored as they go.
Once patients have logged-in, the range of movement in their shoulder is measured and recorded.  They then play a set of games, designed with input from physiotherapists, to achieve their individual physiotherapy goals.  They progress through the different levels which increase in difficulty.
ViP complements rather than replaces face to face physiotherapy sessions and patients will move between virtual and face to face
sessions based on their clinical need.  A typical patient with a shoulder problem will require eight sessions of physiotherapy after their keyhole surgery.  The initial ViP session consists of an assessment that determines their individual physiotherapy goals, such as range of movement and strength, and sets a personalised programme of physiotherapy exercise games.  Sessions at home then alternate with one to one monitoring and treatment in the physiotherapy clinic.
The games have been introduced into patient care at Trafford Hospital following a successful clinical research study, supported by the National Institute for Health Research (NIHR) Clinical Research Network (CRN).
The service evolved from validation work to ensure the system is clinically valid, to testing in the research environment with a multicentre Randomised Control trial, involving multiple hospitals in the North West. The study results showed that the games were equally as effective as standard post-operative physiotherapy, and that they helped patients feel more motivated.
Around 20 patients a month having shoulder surgery at Trafford Hospital will benefit from ViP. Development of the games plus purchase of sensors and other equipment was funded with a £10,000 grant award by the MFT Charity.
"Supervised physiotherapy is a major resource provided by the NHS, but it is estimated that up to two thirds of patients fail to stick to their exercise programme outside of sessions with their physiotherapist," explained Mr Bibhas Roy, who is based at Trafford Hospital.
"ViP aims to increase the number who do, and help them to achieve better rehabilitation outcomes. We expect to replace about 50% of the standard physiotherapy sessions with these new virtual tools."
He added:
"This is what research is all about – we have done the validation work, we have proved it helps patients, and now it is translating into real clinical practice. We could not have got to this stage without the collaboration of Mira Rehab, who have developed a game-changing tool which complements the work we do. Crucially, our study shows the games give patients extra motivation for physiotherapy and I believe we are approaching a stage, in the not too distant future, where this approach will become the norm."
Ian Pullen, a senior physiotherapist at Trafford General, said:
"During the research study we worked with a number of patients who significantly benefitted from this new approach and who really enjoyed the fact they were playing a game, rather than doing a traditional exercise.
"As with all research, there will be a learning curve for us as we roll out the games but we are excited about realising the full potential of the technology. As physios, we want to move with the times and this is definitely a step forward."
Cosmin Mihaiu, Mira Rehab co-founder and Chief Executive Officer, said:
"From the beginning, we wanted to build a physiotherapy tool to help patients play their way to recovery, and not a new game for general public to enjoy in their leisure time.
"Therefore it is very rewarding to see our work being incorporated into NHS care in a way that can help patients achieve a better recovery, and have a better time in the process."