Suzie Hawkins, a florist at Manchester's Frog, and Kadija-Bhlue Wilson, a music graduate and singer-songwriter – have been picked to be part of a national photography exhibition taking place in London this November.
Manchester residents Suzie and Kadija-Bhlue were hand-picked from over 250 entries to take part in the Saturday Girls exhibition by JOB TODAY, which highlights 10 amazing women at work in their Saturday roles.
The exhibition explores  how this iconic role has evolved over the decades, and the new trend with millennials who are now choosing Saturday jobs and casual work as a way to enhance their lives and prospects, in turn, providing themselves with the flexibility and financial freedom to become more creative and entrepreneurial.
The photos were taken by critically acclaimed photographer, Lewis Khan. Lewis captured Suzie at work at Frog (on Turner Street) and Kadija-Bhlue performing at a gig in Leeds.
Flowers are Suzie's passion and she's been working with them since she was young. After studying floristry full time and working weekends in a bustling Buxton florist, she travelled to the Canadian Rockies to work as a florist.After a stint in London working for acclaimed florist 'Wild at Heart' in both Liberty London and their head shop, she continued with her travels to Australia where she worked for a top Melbourne florist.
With Manchester calling, she returned home, and as the stars aligned, found Frog, her current place of work where she is developing a flower school. She works every Saturday, but doesn't mind as she takes Sundays and Mondays off.
Kadija-Bhlue is a recent graduate of music from Leeds University. Music is her absolute passion and she says being a musician allows you to be self-employed and work around your own schedule.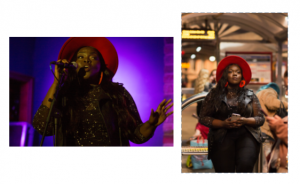 She sings on her own, or part of a twosome at gigs across the North most weekends, and she is also part of a choir.She fits in part time shifts when she needs to for extra cash. This allows her to take control of her own creative path. If she's not got a gig on a Saturday, she will pick up retail or hospitality work.
From Glasgow down to Newcastle, Birmingham, London and beyond, the documentary style exhibition showcases Collette Conlin, an usher at the Theatre Royal in Newcastle who hopes to become a star performer herself, and Helen Adeyera, a weekend hairdresser that is studying Computer Science at Coventry University, just to name a few.
The exhibition will take place in London's Fitzrovia, kicking off 1st November