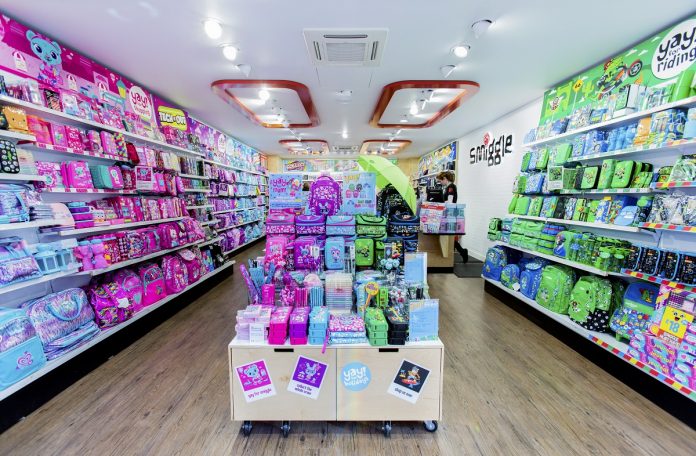 Rapidly-expanding Australian stationery brand, Smiggle, is set to open a brand new store in the intu Trafford Centre in Manchester on Friday, 6th October.
The store will be a second for Smiggle in Manchester and the 110th store for the brand in the United Kingdom. Smiggle promises to provide fans with a treasure trove of colourful goodies to kit out their stationery collection, and opens just a few days before Smiggle's exciting brand new range "Smile with Smiggle", is launched. Smiggle Trafford will showcase one of the widest selections of the new range available in the UK once it launches on the 10th October.
Since arriving on UK shores in February 2014, Smiggle, has revolutionised the stationery landscape. Its quirky, original and fun products have captured the hearts and dreams of fans, with the intu Trafford Centre store opening promising to widen its legion of followers even further.
John Cheston, Managing Director of Smiggle, said: "Manchester fans have already shown so much support for our brand, so we're thrilled to be opening a second store in Manchester at the intu Trafford Centre.
"It is an especially exciting time for us as we're also launching a brand new range a week later – giving our fans yet another great reason to drop into the new store."
Smiggle – where a smile meets a giggle – offers something for everyone. Whether you're searching for a great gift for a stationery fan or need to spruce up your own pencil case, you won't be short of choice in a Smiggle store.
Shoppers can choose from a whole host of fun products, focused on bold colour, quirky graphics, good value and innovation. These offerings will be brought to life for Manchester customers, with promises of multi-coloured backpacks, eye-catching pencil cases, sparkly stationery, gadgets and gizmos, and lots of goodies to deck out desks.