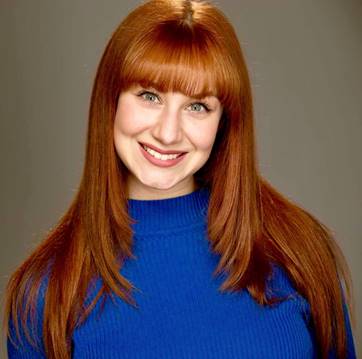 Get set to go on a magical journey Over The Rainbow as Regal Entertainments' new production of The Wizard of Oz begins its North-West tour next week, opening at Stockport Plaza from Monday 7 – Saturday 12 August.
Producers are excited to announce that BBC Pitch Battle's Maddie Hope Coelho will be joining the cast, replacing previously announced Charlotte Gallagher in the role of Dorothy.
Maddie, who was a contestant on the recent hugely popular BBC talent show Pitch Battle, trained at Laine Theatre Arts, West End MT and The Royal Ballet School. Her theatre credits include Fairy Goodapple inSnow White and the Seven Dwarfs (Devonshire Park Theatre), Mary Margaret in Singin' in the Rain (Gordon Craig Theatre) as well as appearances in Sleeping Beauty and Aladdin. She was also a vocalist on Disney's Pandora: The World of Avatar soundtrack.
On getting the part of Dorothy Maddie said "I am delighted to be playing Dorothy and hope that audiences have a magical time!"
Maddie joins previously announced Eastenders actress Cheryl Fergison as The Wicked Witch of The West; X Factor star David Heath as the Scarecrow; Blood Brothers star Olivia Sloyan as Glinda; the charismatic Philip McGuiness playing the Tinman; and hilarious panto favourite Simon Foster as Cowardly Lion.
The show was a huge success during its run at St Helens Theatre Royal last October playing to a packed-out auditorium, and is guaranteed to delight audiences of Stockport this August.
The Wizard of Oz is a firm family favourite which tells the story of young Dorothy Gale and her dog Toto as they embark on a wondrous adventure over the rainbow in the magical land of Oz.
Regal Entertainments' version of this classic family show includes a hilariously funny script, dazzling costumes and sets, plus a wealth of brilliant songs and show-stopping choreography.
Be sure to join Dorothy, Toto and all their new friends Scarecrow, Tin Man and Lion as they journey down the Yellow Brick Road to The Emerald City in search of the Wizard of Oz who can make all their dreams come true.
Wizard of Oz Producer, Chantelle Nolan said: "We are delighted to welcome Maddie to the cast and cannot wait to see her onstage as the beautiful Dorothy when the show opens next week at Stockport Plaza. We are just about to start rehearsals which are always great fun, and it promises to be a fantastic family show. If you haven't booked your ticket already, what are you waiting for! It is a perfect treat to bring the kids to this Summer holiday."
The Wizard of Oz runs from Monday 7 – Saturday 12 August.  Tickets are now on sale.
The cast is subject to change.
Like us on Facebook: /RegalEntertainmentsLtd
Follow us on Twitter: @RegalEntsLtd
For further information visit: www.stockportplaza.co.uk
LISTING DETAILS
Regal Entertainments Ltd presents The Wizard of Oz
Dates: Monday 7 – Saturday 12 August
Times: 1pm and 5pm
Tickets: From £13 (Groups 20+ from £12)