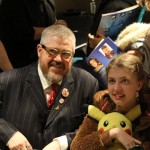 Following Sunday's matinee performance of Chitty Chitty Bang Bang at The Lowry the show's Musical Director Andrew Hilton and cast members, including Jason Manford, Claire Sweeney and Phill Jupitus, made their way front of house to lead a festive singalong in aid of The Lowry's Christmas Appeal.
The Christmas Appeal is an annual fundraising project, specifically designed to raise funds for a year-long programme of work with young people in Salford. For 2016 The Lowry are raising money to deliver a programme of work for those that are in, or have recently left, the care system. The purpose of that programme will be to develop those children and young people's creativity, talent and employability skills.
Gwen Oakden, director of development at The Lowry said "It's wonderful that the cast and company of Chitty Chitty Bang Bang are so supportive of The Lowry and have given up their time to help raise awareness of our Christmas Appeal. As a registered charity we only receive 6% of our income from public sources so, we really need and appreciate all the support we receive that helps us deliver this life-changing work in our city."
Chitty Chitty Bang Bang is currently playing a Christmas run at The Lowry in Salford. Performances began on Tuesday 6 December and will run through until Sunday 15 December.
Music & Lyrics and West Yorkshire Playhouse are delighted to present Salford's Jason Manford (The Producers, Sweeney Todd) as Caractacus Pott, Phill Jupitus (The Producers, Hairspray) as Lord Scrumptious and Baron Bomburst, Claire Sweeney (Hairspray, Chicago, Guys and Dolls) as Baroness Bomburst and Charlotte Wakefield (Oklahoma!, Spring Awakening, The Sound of Music) as Truly Scrumptious.
They are joined by Jos Vantyler in the role of the Childscatcher and Andy Hockley as Grandpa Potts.
Chitty Chitty Bang Bang has music and lyrics by Richard M Sherman and Robert B Sherman, who were also responsible for Mary Poppins, The Slipper and the Rose, The Aristocats and The Jungle Book. The Sherman Brothers have won two Academy Awards with a further nine nominations, two Grammy Awards and they have received 21 gold and platinum albums.
The film made from Ian Fleming's classic story has been adapted for the stage by Jeremy Sams, based on the MGM Motion Picture Licensed Script adapted by Ray Roderick.
This new production of Chitty Chitty Bang Bang is directed by West Yorkshire Playhouse Artistic Director James Brining, with new choreography by Stephen Mear. There is a live orchestra with Musical Supervision by Stephen Ridley. Set and costume design is by Simon Higlett, lighting design is by Tim Mitchell, sound design is by Ben Harrison and video design is by Simon Wainwright.