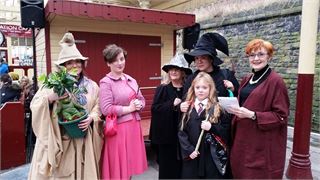 The Wizard Academy train will be leaving from Platform 3/4 at Bury Bolton Street Station
It's the first day of term at the Wizard Academy, and a sect of sinister sorcerers have made off with one of the school's most important magical artefacts.
You will be able to join an enchanting cast of characters on a quest to get it back, and learn all of the skills to be an award-winning witch or wizard along the way!
This interactive quest will see you and your family join colourful and quirky costumed characters on a steam train ride, during which you will take part in a host of entertaining activities to complete the story.
The return trip from Bury to Rawtenstall hauled by a magical heritage steam train will take just over two and a half hours and will be taking place on the following dates this year.
15

th

 Feb

ruary 

5

th

 Apr

il 

31

st

 May 

26

th

 Jul

y 

16

th 

August 

30

th

 Aug

ust 

25

th

 Oct