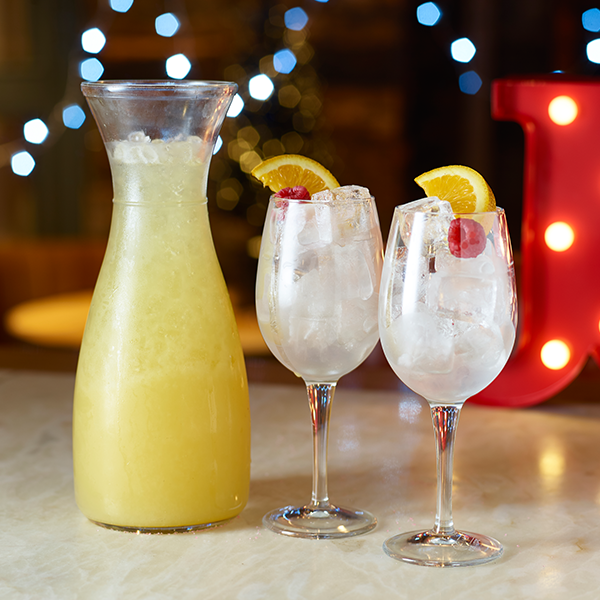 Get into the festive spirit with the best premium cocktails this side of the North Pole. With show-stopping celebrations and festive feasts available now until the new year, even Santa would stop his sleigh to get in on the Yuletide fun. 'Tis the season to get jolly!
Leading the Revolution
Wrapping up their festive specials with warming spirits, fruity mixes and indulgent creamy concoctions, Revolution have a stocking-load of crackers, including the sultry Merry Kissmas (Ketel One vodka, vanilla liqueur, pineapple, cranberry, and lime juice and strawberry jam topped with raspberry sherbet and Love Hearts), the classy G&Tree (Tanqueray gin, tonic, cloves, orange and rosemary), the spicy Gingerbread Man-tini (Ketel One vodka, Kahlua, half and half, vanilla liqueur, dulche de leche, cream and crunchy gingerbread men) and the very berry Rudolph Frappé (Ketel One vodka, Raspberry Handcrafted Flavour, strawberries, lime, cherry syrup and pineapple juice) that comes topped with squirty cream, a rosy red cherry 'nose' and mint sprig 'antlers'. Each merry mix is a gift to your taste buds and the perfect way to celebrate a Christmas that's the opposite of ordinary.
Turn up the Cuban heat
Adding a Latin twist on some Christmas classics, do as Santa does and check the Revolución de Cuba cocktail list twice – take your pick of seasonal serves that are both naughty and nice. These tasty tipples are better than a kiss under the mistletoe featuring the fruity Mince Pie Martini (Santa Teresa Gran Reserva rum, apple, sugar, pineapple, candied fruit and spices), the dreamy and creamy Eggnog Colada (Bacardi Carta Fuego rum, caramel liqueur, coconut, milk, cream, pineapple and bitters), the festive North Star (Santa Teresa Gran Reserva rum, Aperol, vermouth, caramel liqueur and orange bitters) and the Santa-coloured Sleigh Puller (Bacardi Carta Fuego rum and Amaretto shaken with sweet almond syrup, vanilla, raspberry, lemon and pineapple). Christmas at Revolución de Cuba is perfect for a festive fiesta accompanied by all-day dining, party vibes, live music and DJs!
Rocking around the Christmas tree
Also available this winter are Christmas party dining packages for group bookings and private events, guaranteed to light up your Christmas like Rudolph's nose.
Revolution is delivering the perfect chance for festive fun! Whether you're after wintry tipples and bar snack packages (from £10 per person) with friends, or a full-on annual office shindig, you can even add bespoke cocktail masterclasses. Celebrate in style with private spaces available to hire, alongside a hearty Christmas buffet (from £14.95 per person), a three-course meal (from £16.95 per person), or simply join the crowds on the dance floor.
Ditch the sprouts and stuffing for a Cuban-style Christmas night out at Revolución de Cuba! Infused with Latin flair, it all starts with a decadent feast, inspired by the exotic flavours of the island. Throw in some Christmas cocktails, exciting entertainment and festive party vibes to create the perfect recipe for a festive night out to remember.