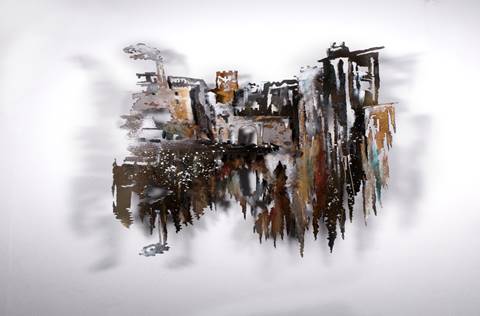 An international artist will be making an appearance in Manchester this week to unveil a series of sculptures inspired by the city.
French sculptor, Frédéric Daty, will be at Castle Fine Art on King Street on Thursday (15th March) between 6pm and 8pm to showcase pieces from his new collection Ombres de Ville. The works will then be on display at the gallery for a further week.
Attendees of the event will have the opportunity to learn about Daty's inspirations and techniques, including the essential role light and shadows play in his sculptures and how each individual element is carefully assembled to create volume and perspective.
Translating as 'shadows of the city' the Ombres de Ville collection is inspired by the intrinsic energy and life force of cities. Daty aims to evoke feelings of nostalgia and modernity through his sculptures, which portray iconic locations in Manchester such as Victoria Station, the Beetham Tower and The Central Library.
Whilst carrying out research for the collection, Daty visited the Manchester Art Gallery and was enamoured by the works of French Impressionist painter, Pierre Adolphe Valette, who was the first artist to paint Manchester. Daty has paid homage to Valette by recreating his painting 'The Irwell' as a sculpture.
Speaking ahead of his appearance, Frédéric Daty said: "I'm looking forward to meeting the people of Manchester and seeing how they react to my work.
"Manchester is a city mostly associated with a deep and rich pop culture and musical history, and many people are unaware that it was regarded as the first and greatest industrialised city in the world.
"Historically Manchester gifted the UK with its first true canal and railway station used to transport goods during the Industrial Revolution. It's this architectural legacy that was in the forefront of my mind when creating this collection. ''
Nicholas Beese, gallery manager for Castle Fine Art, King Street said: "It will be a great pleasure to have Daty visit our gallery on Thursday to showcase his Manchester-themed sculptures.
"His unique methods and balance of light and shade really reflect the depth and complexity of his subjects and we can't wait for visitors to witness it for themselves and appreciate the artwork in person."