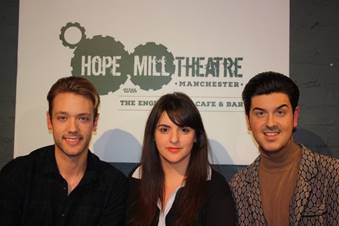 The award-winning Hope Mill Theatre in Manchester and Aria Entertainment has today announced the development of their critically-acclaimed collaboration – and revealed the first three in-house productions of an ambitious and diverse 2018:
The world premiere of new British musical The ToyBoy Diaries, a new revival of the acclaimed modern Broadway hit Spring Awakening and Andrew Lloyd Webber's romantic classic Aspects of Love.
The hugely successful partnership between Joseph Houston and William Whelton, the co-founders of Hope Mill Theatre and producer Katy Lipson, of Aria Entertainment is developing further with the news that Katy Lipson is joining William Whelton (Executive Producer) and Joseph Houston (Artistic Director and Programmer) as Artistic Director for in-house musicals at Hope Mill, in addition to her current role as Resident Producer.
This development in their partnership, and the announcement of their first three shows for 2018 is the latest step in Katy, William and Joseph's vision to make the theatre the home of new musicals and revivals in the north and beyond.
Also announced today is Hope Mill Theatre and Aria Entertainment signing up to the "professionally made, professionally paid" Equity Fringe Agreement for Hope Mill and Aria Entertainment's productions. Hope Mill Theatre is the first venue in Manchester to sign up to this standard which guarantees actors and stage managers are paid within the Equity guidelines which covers hours of work, breaks and health and safety conditions.
A landmark 2017 has seen 5* reviews for productions in Manchester of Yank! and Pippin, as well as the transfer of Yank! (Charing Cross Theatre) and last year's hit Hair (The Vaults, Waterloo) to London – with Pippin to follow to in early 2018 (Southwark Playhouse). The final in-house production of the year, the European Premiere of Little Women runs this Nov/Dec at Hope Mill.
The ToyBoy Diaries runs from 18 January to 10 February 2018 and is on sale now. This new musical comedy charts the hilarious and sometimes heart-breaking sagas of mid-life dating.
When twice-divorced Lily inadvertently finds herself under a much younger man, it opens the door to a wild new world of inappropriate relationships.
From Tom the Tender to Sam the Submissive, via Paul the Policeman, Hat Trick Patrick and Matt the Monstrous (with Old Willy and Philandering Phil mixed in along the way) Lily finally finds Ben the Bountiful.
The ToyBoy Diaries has a book by Simon Warne, music and lyrics by Andy Collyer and is based on the best-selling memoirs of Wendy Salisbury. Directed by Tania Azevedo.
Spring Awakening runs from 19 March to 3 May 2018.
Hailed as "one of the great musicals of the last decade" (New York Times) and the winner of eight Tony and four Olivier Awards, Spring Awakening is based on Frank Wedekind's controversial play. The show follows a group of teenagers in late-19th-century Germany navigating the struggles and virtues of blossoming youth, with an electrifying fusion of morality, sexuality and a Grammy award-winning rock score.
This landmark musical is presented in an intimate and bold new production helmed by director Luke Sheppard (In The Heights, The Secret Diary of Adrian Mole).
Spring Awakening has book and lyrics by Steven Sater, and music by Duncan Sheik.
Aspects of Love runs from 5 July to 4 August 2018 and tells the story of passion, love and loss across three generations of a family and their artistic companions, against a background of 1940's France and Italy.
The iconic "Love Changes Everything" was a huge hit for Michael Ball, who starred in the original production in London and on Broadway. It was first produced at the Prince of Wales Theatre in London on 17th April 1989, where it ran for 1,325 performances before finally closing in June 1992. Since then it has toured the UK and recent productions include the Menier Chocolate Factory (2010) and Stage Entertainment's production in Holland (2013)
Aspects of Love is based on the novel by David Garnett, with music by Andrew Lloyd Webber, lyrics by Don Black and Charles Hart and directed by Jonathan O'Boyle.
Two more yet-to-be announced productions will follow in Autumn/Winter.
William Whelton and Joseph Houston, co-founders of Hope Mill Theatre said: "Hope Mill Theatre recently celebrated its 2nd anniversary and we could never have imagined that alongside Katy we would already be announcing our 3rd season of musicals after having five in-house productions and three London transfers under our belt.
"We wanted to make sure our third season was even more ambitious and we feel we have managed to achieve that with the world premiere of the new British musical The ToyBoy Diaries, an exciting revival of Spring Awakening with an Olivier Award-winning creative team and our first staging of an Andrew Lloyd Webber classic – Aspects of love.
"Once again we have proved the power of regional theatre and continue to spearhead Hope Mill Theatre as a leading player in new musical staging, musical premieres and exciting revivals."
Katy Lipson, of Aria Entertainment, said: "I first stepped into Hope Mill Theatre just under two years ago and was blown away with what a beautiful space Joe and Will had taken on and created. It's an absolute honour to be joint artistic director of the venue; bringing my passion and knowledge of musical theatre and titles to the table as well as spearheading the venue as a leading producer of high quality musical theatre in Manchester, which is also my home town.
"I have enjoyed working with the theatre on taking our shows to new commercial levels in London and am extremely delighted to announce the first three shows of our 2018 season. The ToyBoy Diaries is an Aria Entertainment commission and world premiere, having been workshopped and developed in our annual From Page To Stage festival. Having worked with Steven Sater and Duncan Sheik on a concert of their work, we are delighted to be bringing Spring Awakening back to Manchester. To close the season we have the beautiful Aspects Of Love, by the most famous British composer of musicals Andrew Lloyd Webber, and it is an honour to share this diverse selection of work with you.
"We hope to continue to champion the genre and bring in audiences from far and wide."