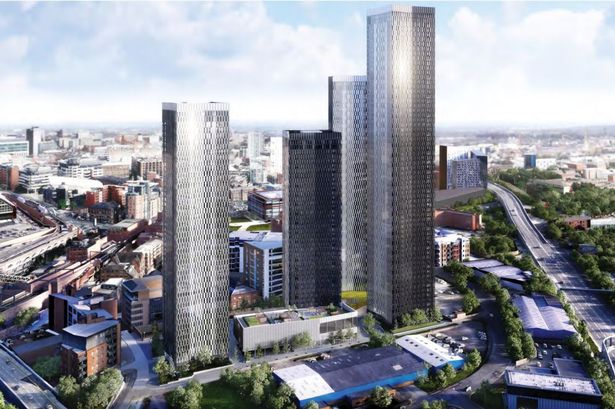 A new report out this week says that Manchester's housing crisis is not just an outcome of unjust austerity, but as also come about through the relatively recent emergence of housing in Greater Manchester as an investment opportunity for financial actors, from within the UK and increasingly internationally.
The report, From Homes to Assets,Housing Financialisation in Greater Manchester, written by Dr Jonathan Silver of the University of Sheffield, collected data from over twenty five thousand housing units spanning seventy nine sites in July of 2017 across Manchester and Salford, areas, says the author , that offer much greater rates of financial return than properties in London.
It found that while a total of 5,125 affordable housing properties should have been available under the twenty per cent requirement, none were being built in Manchester while only five were in Salford.
Meanwhile of the seventy nine development sites, only thirteen section 106 agreements were identified, sixteen per cent of the sites.
Section 106 is supposed to provide a financial contribution of around 20 per cent towards affordable housing but developers will often get around this clause by claiming that the contribution will make the scheme unviable,while others will pledge to fund other schemes outside of the city centre.
The report also found while primarily through loans to developers, £265m were allocated to 5,330 sites, at an average of £29,000 per property of which non were designated for social or affordable housing.
Greater Manchester,says the report, is witnessing a surge of international finance, including funding from large institutional investors in development finance,companies involved in 'secrecy jurisdictions' and smaller investors purchasing one or two units as part of savings and pension schemes.
The impact of this financialsation is creating affordability pressures on residents seeking to purchases and or rent in the city region centre with buyers needing a monthly income of £3000 to get a mortgage while renters have seen an increase of twenty two per cent in little over two years .
A spokesperson from the Greater Manchester Housing Action Trust said:
"This research provides unavoidable evidence for something that many Mancunians have suspected for a while- that in the interests of making Manchester a "global" city, our city centre has been handed over to private investors and developers to make huge profit. The superheated development that has been a feature of London's housing landscape for a while now has arrive in Manchester and is reshaping the city and driving up the cost of housing. In the face of a housing crisis where countless cannot even access the basic human right of a roof over their head, it is unacceptable that profit is being put above people.
More than this, we believe the research raises the huge question of who Manchester is for. Is it for its residents, who want a affordable and secure place to live in a city where their heritage is protected, or is it for international developers to make a profit? We call on the council to change course; to toughen up planning frameworks and properly collect Section 106 money and invest in mass social housing. We cannot be a global city at the expense of residents."