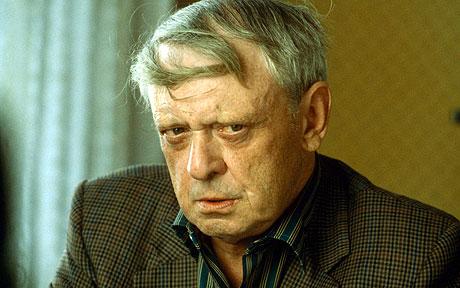 Anthony Burgess was born one hundred years ago this weekend. Born in Manchester, he was a writer and composer who is regarded as one of the leading novelists of the twentieth century. His works are widely read all over the world.
Today we publish an extract from the book Around Manchester, published by ourselves in which we took a short look at his life and the novel that would ultimately define him
Anthony Burgess had moved to Moss Side when he was seven years old having come from Miles Platting where his step mother ran the Golden Eagle pub, keeping order with the aid of two service revolvers.
A loner and outsider, his mother and sister had died when he was young. His ability to read in the lower middle class area meant he was sought after to read the captions at the cinema. Gangs were a common feature for working class boys in their early teens before their interest would turn to girls.
In 1928 he started at Xavarian Catholic college where he would be jumped on on the way home by the rougher boys for wearing his smart uniform. He would take an interest in popular music, his familys gramophone would supply him with the musical culture of the time, and like a lot of boys he made himself a crystal set and would listen to the background of Jack Paine and the BBC dance orchestra. His hobbies, which would also include stamp collecting and ornothonoly, would keep him from the streets,
He spent most of the 1950's teaching in South East Asia and would return in 1959 to a country changing, teen culture, teddy boys and rock and roll with the new teenagers, money in their pockets, haunting the coffee bars and the jukebox. He was appalled by the effeminate nature of pop music and started writing his novels when Mods were gathering in all night bars popping French blues, the teddy boys ripping up seats in cinemas whilst watching Blackboard Jungle and with Race Riots in Notting Hill.
His novel, A Clockwork Orange was published in 1962 but it would find notoriety a decade later in Kubrick's cinematic interpretation, the film now better known than the text, "A nonsense revolting despicable depiction of a man as a two legged beast lusting for depraved sex sadism, violence destruction and murder." one critic would write.
A month before the film was released in Britain, it came out in America to rave reviews. Released uncut in Britain in January 1972, It was argued that the skills of the director distanced the violence of the film from the viewer "a controlled daydream for its audience" said one paper. "The skinhead heroes of ultra violence it tells people to go out and do what you want," said the Sun, though it called it a brilliant film. It stayed in London for a year, only going out to the regions in 1973.
Then the accusations that it was responsible for copycat crimes began to appear. The film was said to be attractive to working class youths, that they loved being in gangs and that they loved violence, all ungrounded assumptions but soon they became mixed up with the film even though many of its critics had not even seen it. They warned that it could become a cult amongst youths, first copying the fashion and then the violence. It would be linked to football violence and the glam youth culture would be associated with the Droogs. Now it was cool for working class kids to wear makeup.
Soon the press would start to blame any outbreak of violence and vandalism on the Clockwork Brigade and in April 1973, the Manchester Evening News reported that that Scotland Yard were monitoring gangs and warned that it would see the growth of American type gang violence.
This is an extract from Around Manchester -published by About Manchester.You can find more details here http://history.aboutmanchester.co.uk