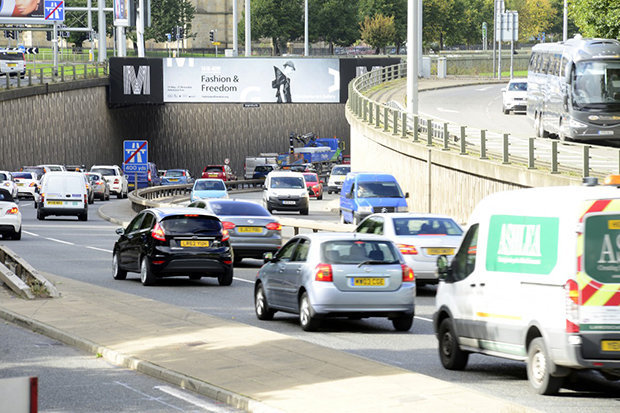 Manchester has been ranked the second most congested city in the UK with motorists spending an average of thirty nine hours stuck in traffic according to a report out this week.
Drivers spend 10% of their total drive time (peak and non-peak hours) in gridlock. This in turn cost each driver £1,403, and the city £345 million.
The report by the Traffic Management Company INTRIX found that the UK ranked as the 10th most congested country in the world and the 3rd most congested in Europe, with drivers spending an average of 31 hours a year in congestion during peak hours.
In London drivers spent an average of 74 hours in gridlock during peak hours, an increase of one hour since last year.
The worst congested roads in Manchester were the A56 Bury New Road between Heaton Park and Northumberland Street, the A6, between the A523 at Leek and the B6171 at Stockport  and the A580/A6, including Broad Street and Frederick Road, between Blackfriars Road in the city centre and Worsley Road in Worsley.
All three roads were ranked in the Top 10 of the most congested roads in the country.
Of the 784 European cities analysed, Moscow topped the list as the most congested in Europe for the second year in a row, where drivers spent 91 hours last year in traffic congestion at peak hours.
Drivers in Moscow spent over 26% of their total drive time (peak and non-peak hours) in congestion. London (74 hours) is second on the list of Europe's most congested major cities, followed by Paris (69 hours), Istanbul (59 hours) with Krasnodar (57 hours) rounding out the top five.
"Combined with the rising price of motoring, the cost of congestion is astonishing – it takes billions out of the economy and impacts businesses and individuals alike," said Dr. Graham Cookson, Chief Economist, INRIX. "With the Office of National Statistics showing more cars on the road than ever before, we need to consider innovative new approaches to solving the issue. Increased flexible working or road charges have potential, however, transport authorities should be looking to exciting developments in data analytics and AI which promise to reinvent our approach to traffic management."