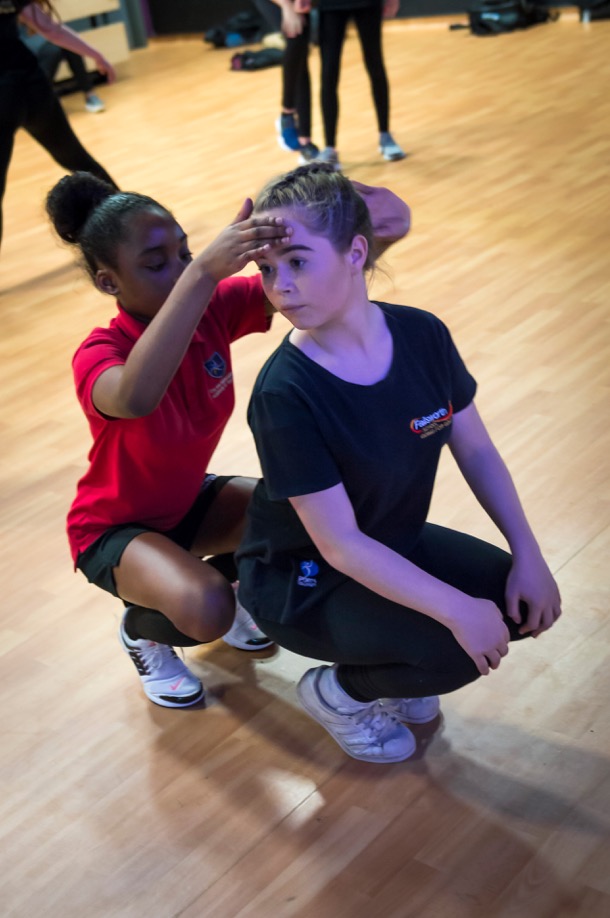 In an innovative project with Manchester dance company, Company Chameleon, The Co-operative Academies Trust is raising awareness amongst its pupils of the importance of mental health, through dance and movement.
Over 100 Year 8 pupils from three schools in Greater Manchester – Manchester Creative and Media Academy, The Co-operative Academy of Manchester and Failsworth School in Oldham – have joined together for the project with Company Chameleon.
The project draws on the themes of Company Chameleon's latest dance production, Witness, which has just completed a 12 date UK tour, and which tells the personal story of Kevin Edward Turner, Company Chameleon's Co-Artistic Director, who suffers from Bi-polar disorder
The pupils were presented with an exclusive performance of Witness by Company Chameleon and following on took part in a series of workshops with Kevin and the Company dancers. The pupils from the three schools have then taken the ideas from the performance and workshop experience to create and choreograph their own dance pieces inspired by the theme of mental health.
The three pieces, which explore ideas including isolation, loneliness, frustration and support, premiere alongside a performance by Company Chameleon on Friday 7 July at Manchester Creative and Media Academy.
The project is being spearheaded by Frank Norris, Director of the Co-operative Academies Trust, who is also the former primary school head teacher of Company Chameleon's Kevin Edward Turner.
Frank saw Kevin on TV in BBC One's Going Back, Giving Back in October last year. Delighted to hear about his former pupil's dance success, he contacted Company Chameleon to reconnect with Kevin.
Frank Norris, Director of the Co-Operative Academies Trust, said: "I felt immense pleasure seeing Kevin on TV primarily because it proved that if a young person has talent, commitment and a genuine passion for the arts they can make a career from it."
"I know how important it is to inspire and raise aspirations for students and I saw the Chameleon project as a good way of doing this. It also enabled our three secondary schools in the north Manchester area to co-operate at a student and staff level."
With national campaigns led by charities such as Heads Together and with increased coverage in the news highlighting the need for greater awareness around the impact of poor mental health, the project takes place at a time when there is a real emphasis and drive to breakdown the stigma of mental illness.
As someone who traces their mental health problems back to their late teens, Kevin Edward Turner sees the project with The Co-operative Academies as a unique opportunity to engage young people in a conversation which is often avoided.
Kevin Edward Turner, Co-Artistic Director of Company Chameleon, explains: "Witness is the perfect catalyst or jump-point to get young people talking about an issue which is sometimes hard to talk about. Seeing a dance piece about mental health issues provides something tangible to relate back to and helps trigger debate and discussion."
"It's forward-thinking and brave of the Co-Operative Academies Trust to allow their young people to experience Witness, which in places is provocative and challenging to watch, and then on the back of this experience, be given the opportunity to craft their own creative responses through dance and movement."
The Co-Operative Academies and Company Chameleon's dance project culminates with a performance on Friday 7 July at the Manchester Creative and Media Academy. Following on a short film documenting the project will be shared online via company chameleon.com.