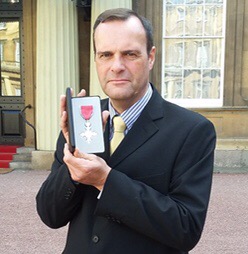 Gary Etchells, a Police Community Support Officer with Greater Manchester Police, has received an MBE for services to policing.
Gary has worked for GMP for over 13 years. In 2006 PCSO Etchells was stabbed in the neck with a carving knife while working in the line of duty. The blade pierced his carotid artery and also caused permanent damage to Gary's vocal cord.
On receiving his MBE, Gary said: "It truly is a humbling experience to be awarded the MBE. I don't know who helped behind the scenes, but I would like to thank everyone who contributed to me being at Buckingham Palace to receive this honour.
"I have to admit, my feeling is that policing is a job you do, not for fame or glory, but because it's the right thing to do. I would like to think that others in my situation would do the same.
"Receiving my MBE is a high tribute to the people of Stalybridge, where I grew up and continue to work there to this day."
Commenting on the award ceremony, Gary said: "I was extremely honoured to visit Buckingham Palace, but I must admit it was a bit daunting. The size of Buckingham Palace certainly makes you feel very humble, but everyone I met was lovely during the day itself."
During the award ceremony Prince William officiated on behalf of the Queen.
On meeting the Prince, Gary said: "Some time ago I helped set up a 'Cold Call' free zone scheme in response to fraudsters who targeted cold calls at elderly victims in order to scam them.When I approached Prince William to receive my MBE, he asked me how the scheme was going. I was taken aback that he had taken the time to read about me, on what had lead me to Buckingham Palace that day."