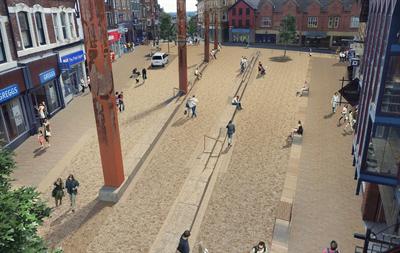 The future look of Wigan town centre has been revealed as part of a major regeneration project which will begin in the coming months.
The £1.3m project, delivered by Wigan Council, will see Market Place completely revitalised thanks to a stunning modern urban plaza with large event space, contemporary lighting, built-in seating, new trees and high end granite paving.
The plaza will feature four striking beacons created by nationally renowned artist blacksmith Chris Brammall which will connect Market Place with its historic past.
The beacons will reflect where the former tramway stanchions in the Market Place once stood in the early 20th century.They will light up at evening time creating a unique atmosphere for Market Place.
Chris Brammall is one of the most sought-after sculptors in the country having created architectural sculptures for NOMA Manchester, Derby Innovation Centre, The Lake District National Park and the Imperial War Musuem.
The new Market Place will also create a more usable and flexible space for performances and events including markets, fairs, music concerts and ice skating rinks.
New lighting features will include floor mounted lights on the seating features and lighting in the trees which can change colour remotely to reflect events or seasons.
The project is set to begin in the spring and will take approximately 20 weeks.It will be completed before major town centre events take place towards the end of the year including the Christmas lights switch on, Santa parade and the start of Christmas shopping.
Wigan Council will also this year be delivering almost £1m improvements to Leigh town centre with the regeneration of Bradshawgate and improvements to the area of the outdoor market.
Councillor David Molyneux, Wigan Council's cabinet member for regeneration, said: "The two major town centres in the borough are hugely important both as shopping destinations for many thousands of people and as a place that supports hundreds of businesses and employers.
"Wigan Council is committed to supporting the continued vitality of the town centres which is why we have invested over £2m in improving both Leigh and Wigan town centres this year.
"The new Market Place in Wigan will deliver a much improved environment for visitors and businesses and as a place for events and leisure activities.
"We recognise that our town centres are so much more a social space than they used to be which is why we have created a design which will make many more events possible.
"We have secured the very best architects, artist and materials so that we will deliver something of real quality that will stand the test of time.
"Chris Brammall's sculptures will help set Wigan town centre apart from the rest and helps connect the modern town centre with its heritage.
"We are delighted that Chris, who has worked with the biggest cities and organisations across the country, is working with us and we are excited to see his designs come to life."
Chris, who is based in the Lake District, said: "It's an honour to be commissioned to work on this major project for Wigan town centre.
"Wigan has such a rich history and it was vital to bring that into the design and celebrate the tramways that transported people to the town centre and through Market Place a century ago."
Landscape architects for the project Re-form are also completing a major landscaping scheme in Hull City Centre as part of their 2017 City of Culture celebrations.
Construction on a new modern Wigan Bus Station, led by TfGM, will start this year. There will also be wider improvements to the town centre.
Exact details of when work will start on the projects will be announced soon.