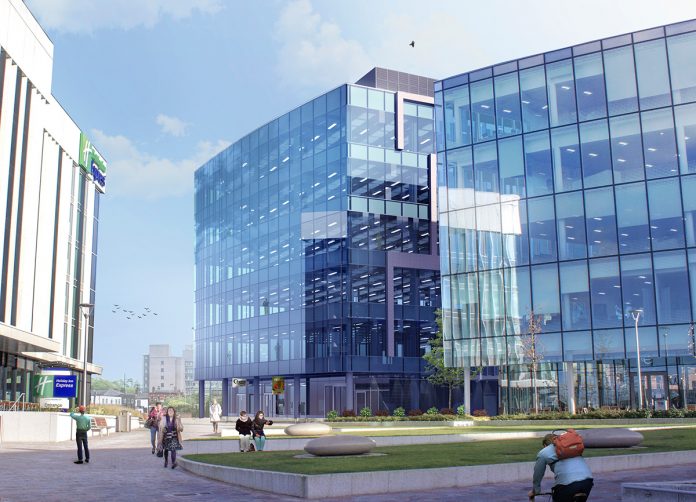 Building on the phenomenal success of Stockport Exchange phase two, the stunning new 60,000 sq ft office will be developed next to the recently completed One Stockport Exchange office.
The new six-storey Grade A office building at the award-winning business district is expected to create a further 350 jobs in the town centre. That's over and above the 300 that have already been created by phase two.
Described by many as Stockport's latest 'wow spot' Stockport Exchange has been a success from day one. Demand for space within the first office building, One Stockport Exchange, was much higher than it was capable of accommodating and the office was quickly fully let. At the same time, the 115-bed Holiday Inn Express has received rave reviews from guests and is enjoying occupancy levels of over 90%.
Sainsburys Local and local coffee shop Cafelito have also opened in the ground floor space and are bustling with visitors every day.
Outline planning approval for Stockport Exchange is already in place but an application to address reserved matters for the next phase of development has just been submitted. The works on site is expected to start in summer 2018.
"Stockport is amongst the best-placed locations in the region for businesses to locate and grow – with unmatched links to London, Manchester and the motorway network. This is why so many businesses are choosing Stockport as a base, and why Stockport Exchange first phases have proven so successful. To build on this, we've given the green light to next phase of the development. This will continue to further set Stockport apart, creating many new jobs and opportunities from which local people and companies can benefit," commented Councillor Kate Butler, Cabinet Member for Economy and Regeneration at Stockport Council.
Wes Erlam, development director at Muse, said: "The first two phases at Stockport Exchange have been a great success, as well as completely transforming the area around the train station into a welcoming and attractive new public space.
"We're now looking to deliver a further office building, which will build on this success, bringing more jobs to the area and adding to the vibrancy of this new commercial quarter."
The £145 million development of Stockport Exchange is a key part of the £1 billion investment programme taking place across Stockport at present building on the town's great strengths to make it an even better place to live, work and visit. The masterplan for Stockport Exchange will ultimately deliver up to 375,000 sq ft of office space and 28,000 sq ft of commercial floor space.