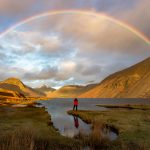 Manchester Piccadilly station users will soon be able to view some of the most breath-taking images of landscapes from across the UK.
A new exhibition displaying top entries from the 2016 Landscape Photographer of the Year competition will open this Thursday 13th April, continuing its national tour of Network Rail stations following a successful showcase at Glasgow Central station over the last month.
The free-to-view exhibition will be on show until 22 April and features more than 50 winning and selected images from last year's competition, meaning that commuters, shoppers and visitors to Manchester Piccadilly will be able to appreciate outstanding photographs of the British landscape, from the snow-capped peaks of the Scottish Highlands, to an image of shifting sands taken at Silverdale beach on the Lancashire coast.
It also features the 2016 winner of the Network Rail 'Lines in the Landscape' Award, a category which challenges entrants to best encapsulate how Britain's railway relates to its surrounding landscape.
Photographed by Sheffield-based Francis Taylor, the winning shot is an elegantly composed piece capturing sunshine breaking through clouds over the Ribblehead Viaduct in North Yorkshire.
The investment in stations and initiatives like the Landscape Photographer of the Year exhibition are helping to improve passenger experience and making stations destinations in their own right – with people choosing them as great places to meet, eat and shop.
David Biggs, managing director of Network Rail Property, said:
"Hosting this unique exhibition at Manchester Piccadilly over the next two weeks is another example of how Network Rail is using its stations to stage innovative events for the local community. We have been a proud supporter of this prestigious photographic competition since 2010 and this is the fourth year running we've hosted the exhibition in our managed stations.
"I particularly welcome the exhibition to Manchester Piccadilly, which has seen positive growth in recent years thanks to significant investment from Network Rail. The exhibition tour attests to our commitment to improve passenger experience of stations and make them exceptional places, worth visiting in their own right."
Commenting on winning the Network Rail award, Francis Taylor, said:
"It is simply an honour to have my image of the Ribblehead viaduct selected as category winner of the 2016 Network Rail 'Lines in the Landscape Award', as the location is one that has always been a huge inspiration to my artwork. Having visited its display among the many impressive images at the recent London Waterloo and London Bridge exhibitions, I hope visitors to Manchester Piccadilly will now be able to appreciate the collection over the next few weeks."
The Landscape Photographer of the Year is an annual competition for both amateur and professional photographers and offers a top prize of £10,000 which was founded by renowned landscape photographer Charlie Waite to highlight the very best imagery of Britain's beautiful rural and urban scenery.
After its stay at Manchester Piccadilly station, the exhibition will continue its tour of the UK, visiting the following Network Rail stations:
1. Leeds: 24 April – 13 May
2. Birmingham New St: 15 May – 27 May
3. Charing Cross: 29 May – 10 June
4. Paddington: 12 June – 24 June