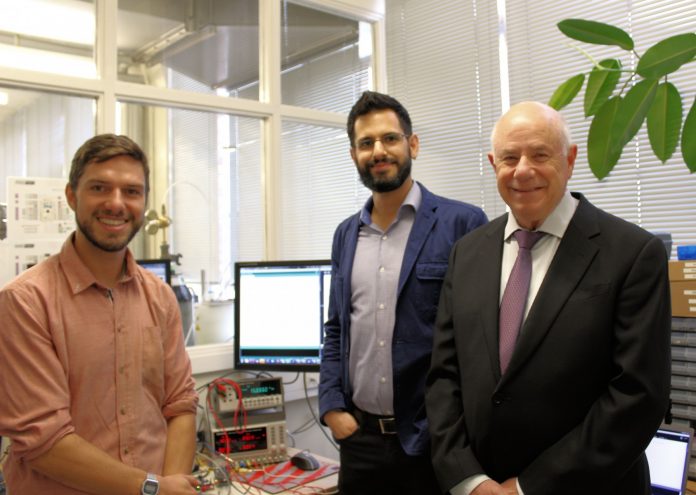 An annual prize worth £50,000 has been awarded to two young Manchester researchers to help set-up a new graphene business venture.
The Eli and Britt Harari Graphene Enterprise Award is awarded each year to help the implementation of a commercially-viable business proposal from students, post-docs and recent graduates of The University of Manchester based on developing the commercial prospects of graphene.
This year's competition was promoted and supported through the use of on-line resources, information sessions and business planning workshops by the Manchester Enterprise Centre, Alliance Manchester Business School.
Christian Berger and Daniel Melendrez are this year's joint winners of the grant and ongoing business support following a decision made by a select panel of judges. Their winning entry tackles growing usability problems faced by the increasing number of over 65s who are new to using smartphones and similar touch devices.
Nearly 60% of these users report real problems when using touchscreen devices due to age related issues. Users who experience tremors or reduced perception of pressure application can often find touch screen interfaces difficult to use.
Usability problems such as touch accuracy when making on-screen selections and accidental unintended pressing have been raised as issues of frustration by many users. Christian and Daniel are seeking to address these problems by developing a transparent film overlay made using graphene.
The transparent flexible force-touch interface (MEMS-TI) is capable of measuring the force applied to film and correcting for any perceived errors. The technology could be used for a wide range of applications including; mass market consumer electronics (haptic devices, touch screens, entertainment/gaming), education, digital arts and media, materials handling and control, augmented reality and healthcare.
The newly developed film utilises graphene's multiple superlative properties. Graphene is a perfect material for this new technology as it is transparent, flexible and extremely conductive, meaning that there is no loss in existing functionality.