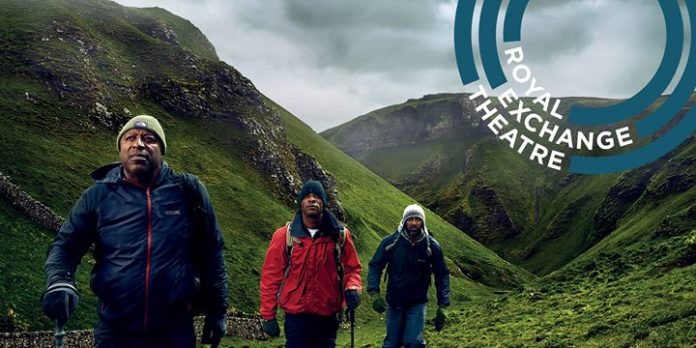 Inspired by a real-life Black men's walking group based in Sheffield, Black Men Walking has been conceived by Eclipse in collaboration with Leeds-based rapper, singer, producer and performer Testament.
Directed by Eclipse Theatre's artistic director Dawn Walton, this new work mixes dramatic story-telling with original music written by Testament and performed by a four-person cast. An Eclipse Theatre and Royal Exchange Theatre co-production,it will premiere on January 18th, 2018 at the Royal Exchange Theatre before embarking on a UK tour.
Thomas, Matthew and Richard meet every month as part of a walking group to explore the dramatic landscape of the Peak District, Yorkshire. On this particular trip, the rest of group cancels and it soon feels like maybe they should have done too. The men find themselves forced to walk backwards through two thousand years of Black history, embarking on a dangerous journey that invokes an element of the supernatural, an encounter with the spirits of their ancestors and an exploration of what it means to be both Black and British today.
A rising star in the theatre landscape, Testament was most recently acclaimed for his one-man show about feminism, WOKE, which fused powerful first-person narrative with his signature beat-boxing and rapping. The walking group which inspired the production was founded in 2004 by a group of men of African and African-Caribbean heritage who started walking for health, wellbeing and camaraderie.
The cast includes Tyrone Huggins as Thomas , Trevor Laird as Matthew  and Tonderai Munyevu as Richard . Completing the cast is Dorcas Sebuyange .
Black Men Walking, the first work to be staged as part of the company's ground-breaking Revolution Mix movement will deliver the largest ever national programme of Black British stories produced and performed in UK theatres.
Eclipse Artistic Director Dawn Walton commented:
"This powerful story perfectly encompasses everything the Rev Mix movement stands for; turning the spotlight onto Britain's missing Black history with a piece inspired by real people and real events. It is so important that these stories are told, especially when you look at the recent online backlash faced by Mary Beard who was accused of 're-writing history' by pointing out the ethnic diversity of Roman Britain. This reaction is evidence of a real lack of understanding about our true British heritage. Open a history book and you'll see that the Roman empire, Britain included, featured people from Ethiopia, Algeria and beyond.
"One of the earliest influences for Revolution Mix was Peter Fryer's seminal book, 'Staying Power', which unearths a compelling history of Black people in Britain over the last 2,000 years. The opening line of the book is 'There were Africans in Britain before the English came here."
"That one statement is so wonderfully provocative and for me, it set the wheels in motion for us to produce a body of work that will bring to stage and screen an erased history. This is just the first of several new works from Revolution Mix set to tour in 2018, which is also the 70th anniversary of the arrival of Windrush, a milestone which is often celebrated as the start of modern multicultural Britain. Acting as the antithesis to this, Revolution Mix will delve deeper to explore Black British history long before, and since, Windrush, offering a new perspective and insight into the full Black British experience."
Black Men Walking will run until 3rd February 2018 at the Royal Exchange Theatre, before embarking on a UK-wide tour
Listings Information
An Eclipse Theatre Company and Royal Exchange Theatre co-production
BLACK MEN WALKING
By Testament
Directed by Dawn Walton
18 January 2018 – 3 February 2018
Press night: 22 January
Standard Tickets £13.00
Box Office: 0161 833 9833
Online: www.royalexchange.co.uk/blackmenwalking