2018 marks 100 years since the passing of the Representation of the People Act, granting some women the right to vote for the first time. To mark this moment, the National Trust's Dunham Massey is opening a new experience this weekend to tell the stories of three women who lived or worked here but have perhaps been overlooked in the past.
From Countess to Housekeeper, Dunham Massey: A Woman's Place? looks at the lives of these women and poses questions about their place in society, home and at work. Visitors are invited to follow their stories around the house: discover the life of Lady Mary Booth, the first and only women to inherit and run the Dunham estate; Penelope, the Countess who opened her house as a First World War hospital; or Mrs Collins, the Housekeeper hidden from the history books.
To tell these stories, rooms that have been closed off for a number of years are unlocked, never-before-seen items from the collection are on display and events are taking place to show different sides to the stories throughout the year.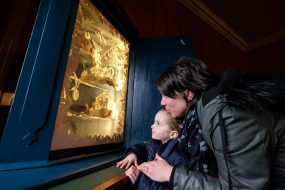 Emma Campagnaro, House and Collections Manager at Dunham Massey, says "We're delighted to be shinning a light on key women from Dunham's past whose stories have so often sat in the background. A Woman's Place? has given us the opportunity to do further research into their lives which means we can bring them to the fore for the first time. And these stories are very much here to stay as we give equal importance to them, alongside the stories of men at Dunham."
From Saturday 24 March, visitors can choose to follow one, two or three of the routes around the house; they'll be able to see costume, including ball gowns, fancy dress outfits, coronation robes and trinkets, and unique eighteenth-century books that have never been on display.
Emma says, "The way we're telling these stories is also new as we want to get objects out of the store rooms and keep rotating collections so there's something new to see or experience with every visit. There'll be pop-up talks and tours throughout the year from the whole House and Collections team and we're excited to see how this new experience is received by our visitors as the house changes and evolves."
The house is now set up to allow visitors to pop in on regular basis with something different to see, hear or to get involved with each time; the Great Hall and Great Gallery will have a changing programme of events, short films, talks, hands-on workshops or debates for all ages to get involved in.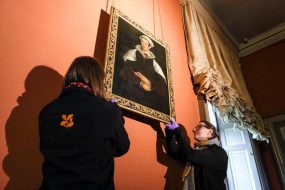 The powerful presence of women can be felt in the Great Gallery which has been stripped of its male portraits and replaced with an all-female picture hang. Alongside the historic portraits are artworks by Women in Print, a Manchester-based project involving five female artists who have created artwork looking at women from Dunham's past. Artworks include an intricate papercut story encased inside a wooden cabinet and a striking digital print displaying a lady in the foreground and dogs in the background – a slight jab at her husband who commissioned many portraits of his dogs but none of his wife.
About the National Trust's Women and Power programme 
A century on from the passing of the Representation of the People Actin 1918, which granted some women the right to vote, the National Trust is exploring the complex histories of power and gender through its year-long Women and Power programme: Dunham Massey's A Woman's Place features as part of this.
Also in the North West, Quarry Bank in Styal, Speke Hall in Liverpool and Rufford Old Hall in Ormskirk will each share stories of women connected with their past as part of the Women and Power public programme. These new 2018 visitor experiences will give voices to the, sometimes hidden, lives and legacies of women who lived and worked across the special places cared for by the National Trust.
For details of events and activities in the Women and Power programme for 2018 see www.nationaltrust.org.uk/womenandpower