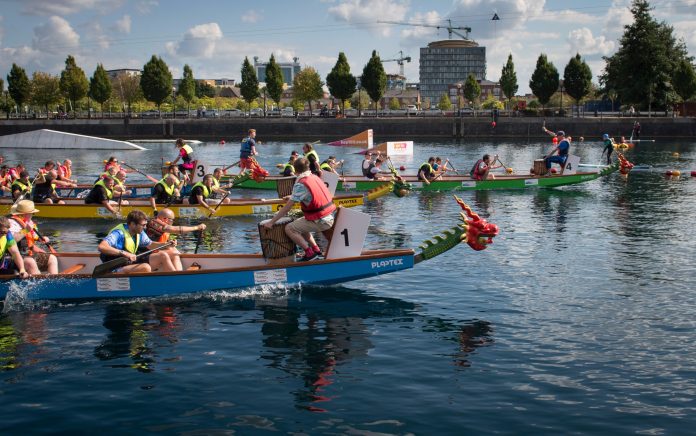 This weekend Co-op Insurance celebrated its 150th anniversary with a charity dragon boat race at Salford Quays which raised over £30k for 21 charities including We Love Manchester and Alder Hey Children's Hospital.
Hundreds of skippers joined Co-op Insurance this weekend to take part in a Chinese dragon boat race at Salford Quays to celebrate its 150th year in business and raise funds for valuable causes.
Each of the boats were made up of 10 skippers, a drummer and a steersman who were spurred on by thousands of cheering spectators, who stayed to enjoy a day of family fun, including food stalls, a magician and giant outdoor games.
Of the 31 boats that took part, each team were racing to raise money for individual charities including; We Love Manchester, Greater Together Manchester and Alder Hey Children's Hospital to name a few.
Furthermore, all proceeds from the family fun day that followed the race will go towards Co-op Insurance's official charity partner, the Eden Rivers Trust.
Forming part of the Co-op's commitment to help make and keep communities safe, the money raised will be used by the Eden Rivers Trust to help implement Natural Flood Management (NFM) measures in Cumbria, an area identified by Co-op Insurance as one of the worst hit areas of flooding.
This follows a 12-month study into England's floodplains by the University of Salford on behalf of Co-op Insurance, which found that England's floodplains are no longer functioning properly.
During the weekend's events, Co-op Insurance have so far raised £30,000 which will be divided among 21 charities including the Eden Rivers Trust.
Mark Summerfield, CEO of Co-op Insurance, commented: "It's with huge pride that we're able to celebrate 150 years of doing business and so we wanted to do something memorable that marked this very special occasion.
"It was great to see so many of our colleagues, including family and friends get together to celebrate this momentous occasion, whilst helping to raise over £30,000 for the Eden Rivers Trust and so many other causes.
"We hope that the money raised and we will continue to raise over the next six months will enable the Eden Rivers Trust to continue their valuable work in the education, restoration and protection of the River Eden and its floodplains. Having worked in the home insurance sector for over a century, we know only too well the significant impact that flooding can have on our communities, like we saw in Cumbria during the devastating floods of 2015."
Joanne Spencer, Co-Director at the Eden Rivers Trust added: "We're delighted to have been chosen as Co-op Insurance's charity as we're a local trust that works with people and communities to improve and protect the River Eden and its tributaries."
"The money raised by Co-op colleagues will help us to continue to develop our education programme with schools and community groups in Cumbria, and to help raise awareness and understanding of the importance and value of rivers in the Eden catchment."