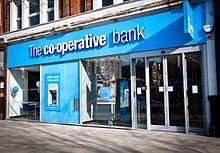 Just three years after it was rescued from possible collapse, the Manchester based Co-op Bank has announced it is putting itself up for sale.
The institution, now owned mostly by hedge fund managers, with only twenty per cent owned by the Co-op Group, says that it needs to raise funds in order to meet its capital requirement.
Following an annual planning review, it is "inviting offers", the bank said.
"The board is commencing a sale process, something always considered a potential outcome of the turnaround plan, alongside considering other options to build capital and meet the longer term capital requirements applicable to all UK banks,"  it said in a statement.
The bank with over four million customers, struggled following a disastrous 2009 merger with the Britannia Building Society, and then ran into trouble when it tried to buy more than 600 branches from Lloyds Banking Group creating a black hole in the bank's balance sheet.
Analysts have speculated that the brand name may disappear from the height Street if the sale goes ahead