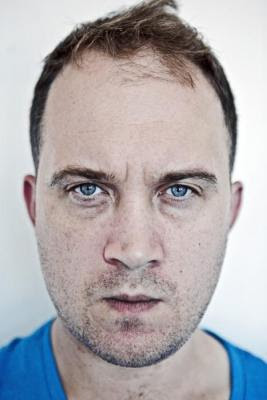 Manchester born writer and performer Chris Thorpe is mentoring the devising and writing process for FEED, which brings together four people connected by a viral media storm.
In a world where algorithms spin to deliver 'what people want,' FEED takes a look at how capitalism has influenced the media landscape. In the stimulating world of FEED, emotions are currency and passions are indulged… for a price.
A Palestinian woman takes a striking photograph of a boy. A journalist steals the image for an unrelated article. A blogger is moved to tears by the article and posts a tribute. An SEO specialist makes the blogger's tribute go viral. Now all four are caught in a media storm, in a whirring story that moves from reality into dark fantasy as the algorithms spin to deliver 'what people want'.
Chris Thorpe has recently been made one of the three Jerwood New Playwrights 2017 by the Royal Court Theatre. He was a founder member of Unlimited Theatre and still works and tours with the company. He is also an Artistic Associate of live art/theatre company Third Angel. He has worked with, among others, Forest Fringe, Slung Low, Chris Goode, RashDash, Belarus Free Theatre and Portuguese experimental company mala voadora – his fourth piece for the company, Your Best Guess opened at Lisbon's Almada festival in 2015. Chris is an Associate at the Royal Exchange, Manchester.
Director of Theatre Témoin Ailin Conant comments, "When we began working on Feed, it was in the wake of Brexit and Trump and we thought we were going to be doing a piece on echo chambers, fake news, and social division. The more we researched, however, the more we realised that Feed was actually about capitalism; it's a play about the attention economy and how our focus as consumers—our engagement, our emotional arousal, and the time we spend with our eyeballs drinking in content—is the greatest commodity on the current market. This means that anything that provokes emotion—humour, scandal, outrage, sensationalism—rises to the top while nuance and deep thinking are pushed out the picture. Fake news and social divisions are a part of that, but they are a tangential by-product of a much darker and more insidious thing and really only the tip of the iceberg."
FEED is part of The Lowry's 'Developed With' series. Theatre Témoin has been the recipient of a package of support to help them develop new shows. This work forms part of The Lowry's artist development programme, a scheme supported by Arts Council England and The Eranda Rothschild Foundation.
Listings Information
FEED
Dates: Thu 28 & Fri 29 June
Times: 8pm
Tickets: £12. £10 concessions.
Website
Running time 60 minutes
Recommendation ages 14+