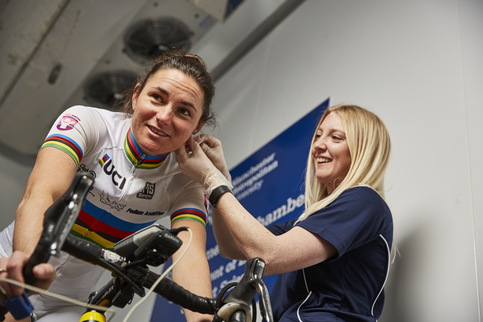 Britain's most successful Paralympian Dame Sarah Storey has renewed her long-standing partnership with Manchester Metropolitan University.
Sarah's journey with the University began following the award of an Honorary degree in 2003. With the opening of the sporting facilities at Crewe in 2010, Sarah began training at the Campus in the run up to the London 2012 Paralympics. Since then, she has become an official corporate ambassador for the University.
As a sponsor, the University supports Sarah in a variety of ways. The Paralympian receives technical support through specialist training delivered by the University's Exercise and Sport Science Department.
Sarah, who gave birth to her son in October, continued to train throughout her pregnancy and expects to return to two wheels after six weeks of rest and recovery post birth. She told BBC Sport: "I don't think you have maternity leave as an athlete. It's completely impractical to be off training for as long as a year, so you are continuing to train towards that goal of Tokyo [2020 Paralympics] in this case."
As part of the partnership, students from Manchester Fashion Institute are producing a range of leisurewear for the athlete's new Elite Racing Team, Storey Racing, that complements technical race clothing. In 2017, the Manchester Fashion Institute logo featured on the Storey Racing support vehicles and leisure team kit and the plans for 2018 are currently being finalised.
Sarah became an honorary graduate of the University for a second time when she received an Honorary Doctorate alongside her husband Barney in 2009.
Sarah said: "It is a huge honour for me to continue to be so closely associated with Manchester Metropolitan. The support I have received from staff and students alike has been invaluable to my success at World and Paralympic Games and I am excited about what we can achieve when I return to training there in the New Year.
"The facilities and support I have access to are truly world class. Alongside my own training, it is also exciting to be involved with the project within the Manchester Fashion Institute and exhilarating to see the talents of the students working on designs for Storey Racing.
"Having completed my own undergraduate studies in the late 1990's, alongside my training as a swimmer, I am a huge advocate for Higher Education and am privileged to be able represent the University and the many exciting and innovative courses and services they provide for their students. I really hope more people of all ages will be inspired by what they see at Manchester Metropolitan University."