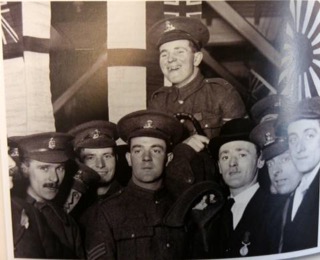 A First World War hero will be honoured in his home town of Radcliffe this Sunday (19 June) with a service and memorial stone dedication at the cenotaph.
The ceremony is almost exactly 100 years after Private James Hutchinson of the 2/5th Lancashire Fusiliers won a Victoria Cross, the country's highest honour.
The memorial stone will be unveiled at 11am following a parade of drummers, standards and cadets, starting from Whittaker Street at 10.45am. The public are invited to attend, and go to the United Reformed Church hall for refreshments afterwards.
This is the second memorial stone of its kind to come to Bury, under a scheme launched by the Government to mark acts of heroism in the Great War. The first, to Rifleman George Peachment, was unveiled in Tottington last September.
Pte Hutchinson was a member of a raid party near Blairville Wood, south of the French town of Arras, on 28 June 1916.
Hutchinson took over as leader of nine men when his commanding officer was killed in the attack. He shot or bayoneted a number of German soldiers while taking their trench, until he ran out of ammunition.
He then covered the raiders' retreat until they were all clear, bandaging the wounded. No one in his party was left behind.
The official version of his gallantry was published in the London Gazette of 9 September 1916, and said he had done these heroic acts while being exposed to fierce fire from machine guns and rifles at close quarters.
Tragically, James's brother Frank Hutchinson, a corporal, was one of the casualties, and his name is commemorated on the Arras Memorial. His brother Joseph lost the sight in one eye during the Somme offensive, and james himself lost sight in his right eye just three weeks later.
After receiving his VC from the King at Buckingham Palace on 2 December 1916, Private Hutchinson returned home to Radcliffe one week later to a hero's welcome.
Owing to the loss of his right eye he did not return to active service, but became company bomb instructor. He was discharged from the Army in 1919 with the rank of lance corporal.