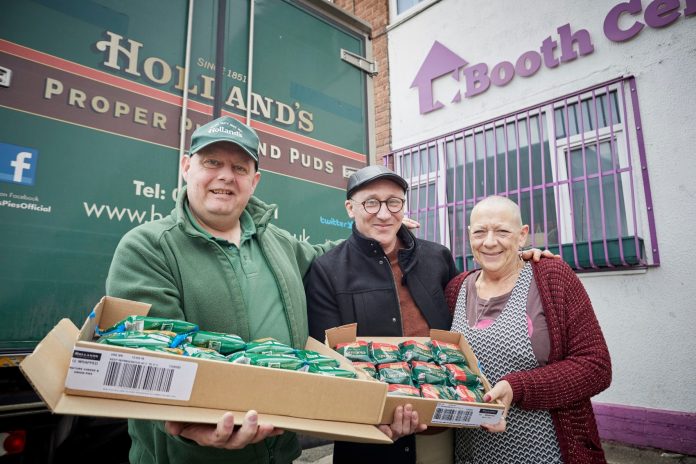 As the best week of the year rolls around yet again, the Booth Centre and Cornerstone CDS are celebrating after being chosen to receive a batch of tasty pies and puds from proper Lancashire baker Holland's Pies.
To celebrate British Pie Week, Holland's Pies delivered over 700 of their famous pies to some of the region's most worthy causes, to thank them for the pietastic work they do in their communities. The ten chosen charities include Alderhey Children's Charity, Dr Kershaw's Hospice and Nightsafe and range from food banks to care homes.
 The two charities, based in Manchester, can thank the Holland's Pies Facebook and Twitter community for their pastry windfall. After Holland's posted online asking for their followers to nominate a worthy cause, the North West's favourite pie brand received over 100 worthy suggestions which were eventually shortlisted to 10.
The Booth Centre focuses on bringing about positive change in the lives of people who are homeless or at risk of homelessness, and help them plan for and realise a better future. They provide advice to find accommodation, education, training and help to secure employment, free healthy meals, support in tackling issues with health and addiction, and creative activities to boost confidence and self-esteem.
Cornerstone is a day centre providing services to vulnerable and disadvantaged adults. Cornerstone help people facing a wide range of social issues, welcomes people from all backgrounds and operates a policy of non-discrimination.
Leanne Holcroft, Brand Manager at Holland's Pies, said: "British Pie Week is a great time to celebrate one of the nation's favourite pie brands, but this year we thought we'd shine a light on some of the amazing and selfless work that charities and community groups are doing across the region. We hope that the pies and puds we've delivered this week will help to keep the brilliant work going!"
Amy Hinks, Development Manager at the Booth Centre, said: "We're delighted that Holland's have chosen to donate pies for visitors to the Booth Centre. At the moment we're serving over 700 meals each week for homeless people in Manchester, so every little bit helps. To be able to offer free meals for people, especially in this cold weather, makes a real difference. Thank you!
Angela Shannon, Senior Support Worker at Cornerstone CDS, said: "We couldn't quite believe it when the Holland's van turned up today with so many goodies for us. They're certainly going to help keep the team going to deliver vital work in our community and celebrate British Pie Week in style. Thank you so much Holland's Pies!"
Holland's Pies' celebration of British Pie Week doesn't stop here though, as pastry fans in the North West have the opportunity to win themselves a year's supply of Holland's famous pies every day during British Pie Week (Mon – Fri). To be in with a chance of winning, simply head to Holland's Facebook page (@HollandsPiesOfficial) or Twitter profile (@HollandsPies).