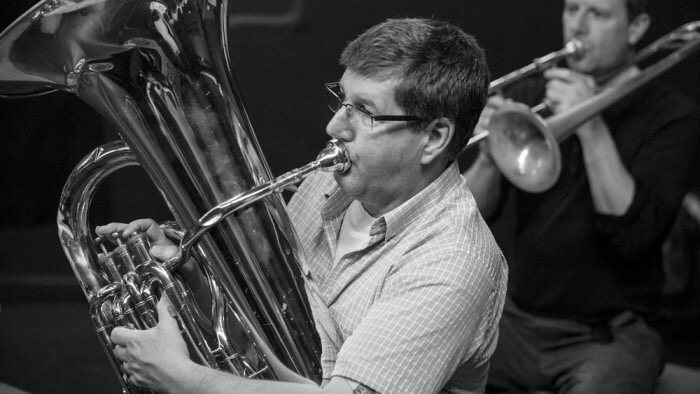 It's 1992; and Danny's lifelong ambition to lead Grimley Colliery Band to the National Brass Band Competition at the Royal Albert Hall looks like it might finally happen. But Grimley pit faces closure and the future looks bleak for the miners, the town and the band. Flugelhorn player Gloria arrives in town bringing with her a renewed sense of hope and a touch of romance, but as the miners chose between picket lines and redundancy, no-one knows who she's really playing for.
Brassed Off returns to Oldham Coliseum next week featuring the musical talents of Oldham-local brass bands: The Delph Band, The Diggle Band, The Oldham Band (Lees) and Boarshurst Silver Band.
Based on a true story, and adapted from the 1996 film starring Pete Postlethwaite and Ewan McGregor, it is a tale of community spirit and triumph in the face of adversity.
The Theatre has produced Brassed Off twice before, in 2005 and 2008, both of which were incredibly well received.
The 2016 production features a cast including Paul Barnhill as Phil, band leader Danny's son. Paul recently played a role as a footman in Stephen Spielberg's The BFG, his daughter Ruby stars in the film as Sophie alongside Mark Rylance as BFG.
Four local brass bands will feature across the run, playing music including: William Tell Overture, Death or Glory, Danny Boy, Land of Hope and Glory and Rodigo's Concierto de Aranjuez.
The real-life band that inspired Brassed Off, Grimetorpe Colliery Band, fought for survival after the closure of their local coal mine and won the National Brass Band Championships in 1992. They featured in the 1996 film and have since won the Championship twice more – in 2006 and 2007- and performed at the 2012 Olympics opening ceremony.
Brassed Off runs at Oldham Coliseum Theatre from Wednesday 7 September – Saturday 1 October 2016
Tickets can be booked on 0161 624 2829 or at www.coliseum.org.uk