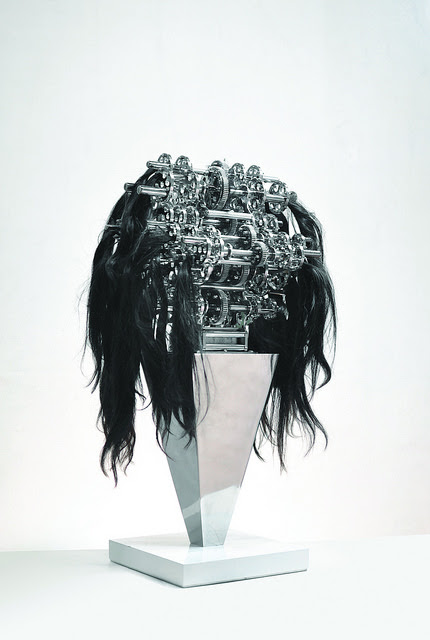 A husband and wife team from South Korea – whose artwork is to be included in an exhibition opening at The Lowry, Salford in November – hope to draw attention to the uncomfortable relationship humans have with their appearance.
U_Joo+LimheeYoung's work, called Machine with hair caught in it, aims to visualise the condition using 'absurd reality' and highlight how digital art can exposes our emotions.
It comprises a complex system of moving cogs in the shape of a human head that draw plats of real hair through its mechanism – symbolising the vice-like grip and never-ending nature of the psyche.
It forms part of The Lowry's upcoming humansbeingdigital exhibition, which opens to the public on Saturday 18 November 2017.
U_Joo+LimheeYoung said: "The work highlights a global condition – but one unique to every locality due to a whole range of geographic, cultural and economic factors. The United Kingdom is no different – its inhabitants perceive and project their own take on personal appearance unique to their life experiences."
Julia Fawcett OBE, chief executive of The Lowry, said: "U_Joo+LimheeYoung's work is in an exhibition that sets out to be thought-provoking and provocative – and we're proud to be the first arts centre in the UK to present their work."
Listing information:
humansbeingdigital
Sat 18 November 2017 – Sun 25 February 2018
The Lowry, Pier 8, Salford Quays, M50 3AZ
Sun-Fri, 11am-5pm. Sat, 10am-5pm.
Admittance: Free. Donations welcome.