We have mex-cellent news that we can't wait to taco-bout.
There's a new Mexican restaurant coming to Altrincham, Chilli Tortilla!
Planning to launch in October, Chilli Tortilla Ltd has taken the 700 sq ft ground and basement accommodation at 3 Regent Road on a 5 year lease at £14,000 per annum.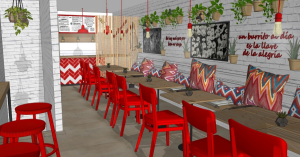 Marlen Beesley, a Latin American who has lived in Altrincham for many years, commented, "I am very excited to be opening our first restaurant in Altrincham.  We will be offering authentic Mexican burritos and tacos with a menu that will be bursting with the healthiest and freshest ingredients".
Diners will be able to enjoy a wide selection of traditional Mexican food in the restaurant designed to have a real Latin American feel.
Keep your eyes peeled for more updates and a launch date!