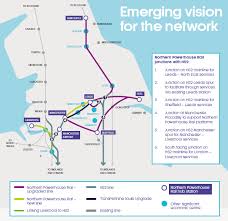 A organisation that has been created to overhaul transport in northern England is to meet for the first time later today as it takes up new powers.
Northern leaders and businesses will join the Minister of State for Transport, Jo Johnson MP, to herald a new era of transport investment in the North. It marks the moment that Transport for the North becomes England's first ever Sub-national Transport Body and formally takes up its statutory powers.
At a meeting in Liverpool Transport for the North Chairman John Cridland will hail the enactment of statutory status as a 'once in a generation opportunity' for the North to shape its own transport future.
Two years of partnership has led to the organisation acquiring status as a formal partner to Government, however its leaders will say that now is the time to look forward to what can be achieved to drive economic prosperity across the North.
John Cridland, Chairman of Transport for the North, said:
"The scale of opportunity and ambition cannot be understated. For the first time, recommendations on what and where investment is needed will be agreed by the people that live and work in the North, allowing us to speak with a united voice to central government. It's a watershed moment for devolution and a once in a generation opportunity to deliver significant improvements in the North's transport network.
"Our Strategic Transport Plan will set the blueprint for transport infrastructure improvements across the next 30 years and will allow us to make a strong and consistent case to Government for sustained investment in the North.
"We're already making this a reality. We're developing fully-costed proposals for Northern Powerhouse Rail, developing plans for major road improvements including a trans Pennine tunnel, starting to roll-out smart ticketing, and are driving tangible service improvements through our co-management of Rail North franchises. This coming year will be the busiest and most important yet."
The inaugural meeting – to be held at Mann Island from 2pm – will see the Minister join elected leaders from the North's nineteen local and combined authorities, co-opted business leaders and representatives from Highways England, HS2 and Network Rail as they form a leadership board for Transport of the North.
Transport Minister, Jo Johnson, said:
"Establishing Transport for the North demonstrates our unwavering commitment to giving our great towns and cities of the North far greater influence over transport investment decisions.
"This Government is investing over £13bn – more than any government in history – to transform northern transport, boost economic growth and deliver significantly improved journeys for passengers. We are already seeing the real, tangible benefits of that investment at Liverpool Lime Street – including major upgrades to platforms and signalling at this great Victorian station.
"With significant new powers enabling Transport for the North to speak with one voice and drive forward crucial projects, such as Northern Powerhouse Rail and smart ticketing, I am confident that TfN will play a pivotal role in delivering the future of northern transport."
A key driver for improving the North's connectivity is a bid to increase industrial competitiveness, bridge the economic gap between other parts of the UK and underpin prosperity. The news has been welcomed by business and civic leaders from across the region.
Mike Blackburn, Chairman of the Greater Manchester Local Enterprise Partnership, said:
"Transport for the North becoming a statutory body is fantastic news for Greater Manchester. It is absolutely right that transport schemes and funding are decided at a local level, where they can be informed by the right expertise and priorities.
"A joined up and accessible transport network across the North is fundamental to the realisation of economic growth. We need to connect people and businesses in a way that opens up employment and investment. The North's infrastructure needs to act as one combined unit rather than individual networks in towns and cities.
"Transport for the North is designed to create access to opportunity. Enabling the North to plan and decide how it wants its transport network to operate and grow will provide the best chance of creating jobs, attracting investment and linking communities in a way that has not previously been possible."