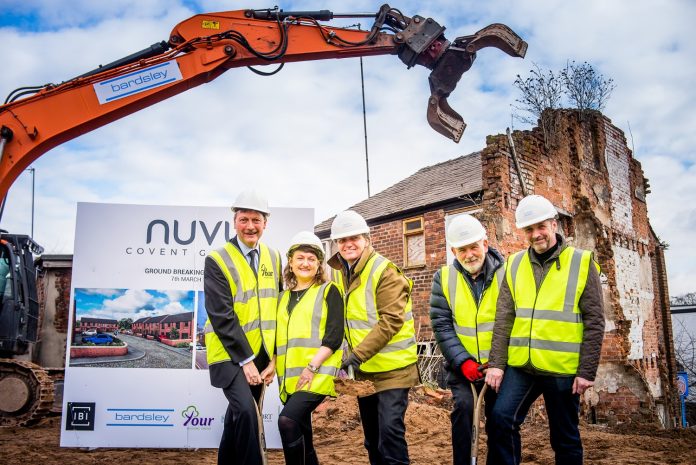 Your Housing Group and Greater Manchester-based contractor Bardsley Construction have started work on 74 homes in a strategically important location in Stockport following a ground-breaking ceremony this week.
Nuvu Covent Garden will revitalise the London Square area and is expected to unlock the potential of the area and surrounding properties, thanks to its proximity to Stockport town centre.
The new development will feature a mix of two- and three-bedroom houses and apartments which will include shared ownership, outright sales and rented homes.
The ground-breaking ceremony was attended by representatives from Your Housing Group, Bardsley Construction, Stockport Council's Cabinet Member for Economy and Regeneration, and local Ward Councillors.
Councillor Kate Butler, Stockport Council's Cabinet Member for Economy and Regeneration, said: "I'm delighted to see the Nuvu Living Covent Garden project making progress. The scheme will bring a mixture of homes to buy and rent within our town centre, enhancing the local area and playing a significant part in the regeneration programme currently taking place in Stockport."
Lorraine Donnelly, Development Director from Your Housing Group, said: "We see real potential in Stockport, it's a great town with fantastic transport links to Manchester and London.
"Nuvu Covent Garden fits our vision to create more places to thrive perfectly, offering a mix of affordable homes people can rent or buy in an outstanding location with amenities and transport on the doorstep. I have every faith our new development will be a terrific asset for Stockport and make an attractive place to live for young professionals, families and first-time buyers."
London Square will be redesigned to incorporate underused space, while empty properties in Crowther Street and Lower Hillgate as well as former council flats will be demolished to make way for new homes.
The development will also preserve the character of the so-called Lowry Steps off Lower Hillgate, recently used as a location for a new film about the life of the famous Salford painter LS Lowry.
The scheme is a key part Stockport Council's £1bn investment programme, which will bring at least 5,000 new jobs and 1,100 new homes to Stockport.