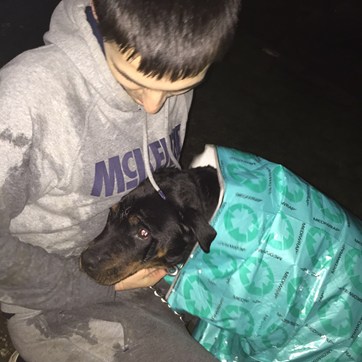 Three-year-old rottweiler, Bella, had been out walking along the canal with her owner and decided to jump into the lock only to find herself eight feet down in a canal lock on Claytonbrook Road, Manchester.
Bella's owner was very distressed and had attempted to make a rescue himself in difficult conditions.
Firefighters used two nine metre ladders, lighting, animal strops and a space blanket to rescue Bella and bring her safely back to dry land.
Station Manager Paul Fearnhead said: "When firefighters arrived Bella had been in very cold water for about an hour.
"Luckily she still had plenty of fight left in her and when firefighters entered the water with ladders Bella scrambled up, doing most of the work herself."